Lambeth Council's scheme to provide safe, low traffic routes for cyclists has seen five new Parklets created at The Cut in Waterloo. Parklets improve high streets for all – local residents and businesses are now benefitting from the new cycle parking, public seating, additional space and green planters.
This scheme, part of Lambeth Council's vision to create safe spaces for cyclists and pedestrians, was designed and installed by Cyclehoop. The pocket parks help promote active travel, support the reopening of local businesses and align with the borough's efforts to reduce road danger, enable sustainable travel and respond to the climate crisis.
Cllr Chowdhury, Cabinet Member for Sustainable Lambeth and Clean Air said: "I thank Cyclehoop for their great work here on our behalf and look forward to meeting local residents and businesses on site to get their feedback on the new Parklets.
"That visit will also be an important opportunity for us to discuss next steps as we continue building a borough that is fit for the future by addressing the climate emergency, improving air quality and reducing inequalities."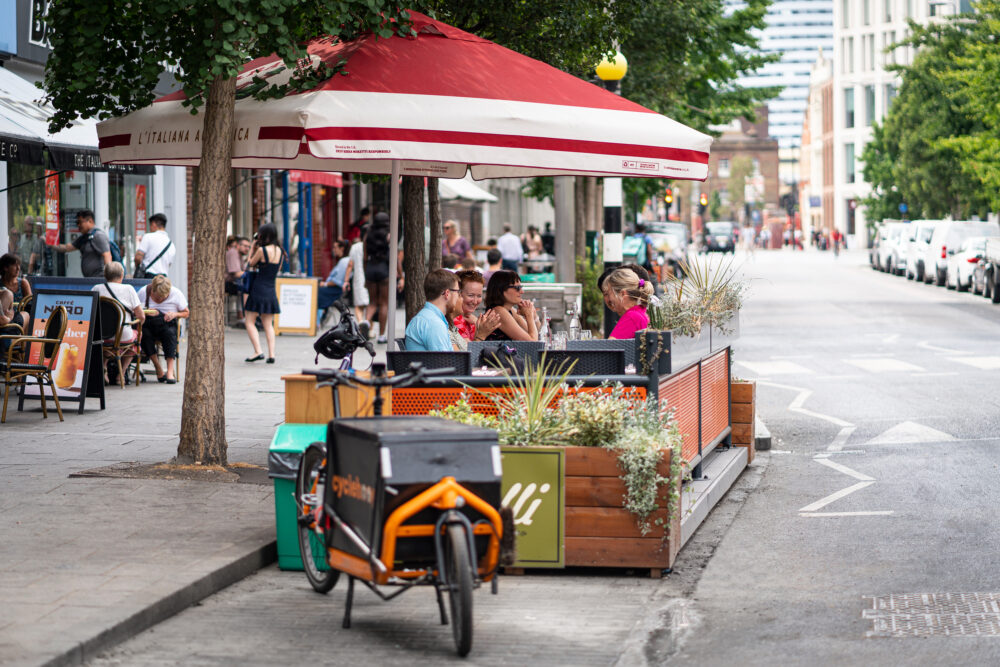 Local business, Ristorante Olivelli, leases one of the Parklets for additional dining space
The project features two Business Parklets which local businesses can use for outdoor dining, extending their usable space. Studies have shown that food and beverage businesses see an annual uplift in turnover of up to 30 per cent after installing a Parklet; per square metre cycle parking delivers 5 times higher retail spend than the same area of car parking – Parklets improve high streets for businesses and locals.
The modular design uses Mobility Corrals, protecting people and bikes from traffic, and allowing the Parklet to be configured to make the most efficient use of the available space. They can also be reconfigured as requirements change over time. Four of the Parklets on The Cut take up the space of one parked vehicle on the road, with one larger unit slightly less than the space of two parked vehicles. The design creates a greener, more pleasant and usable environment for residents, businesses and visitors.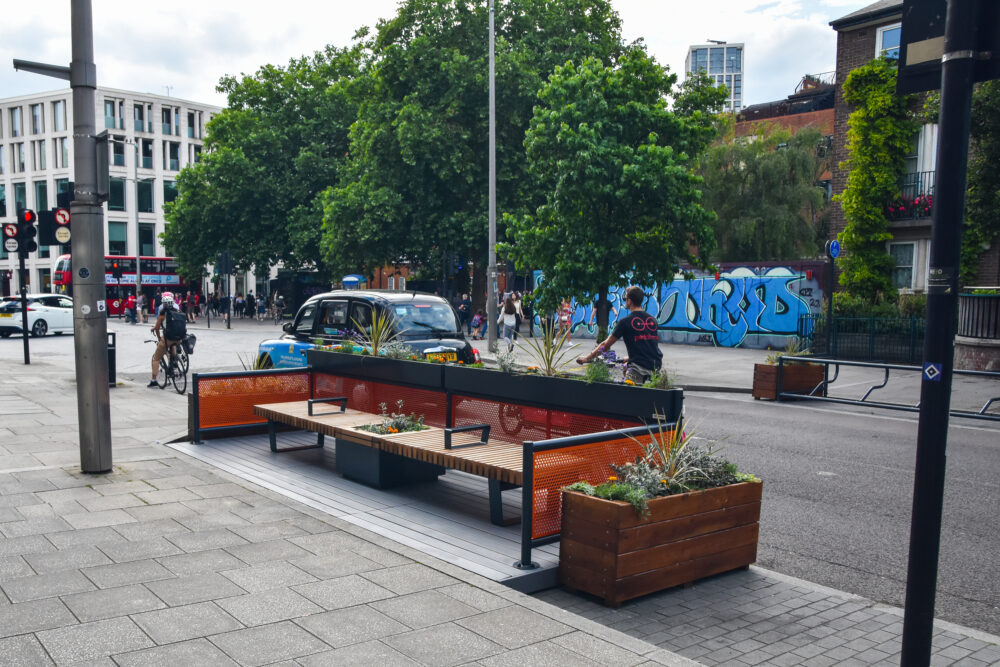 One of the parklets features benches and planters, increasing available seating for users
Anthony Lau, founder of Cyclehoop, said: "By extending the pavement, the Parklets offer additional space for pedestrians with a safety barrier protecting users from road traffic. This means the main pavement thoroughfare is not disrupted and visitors can relax and enjoy the outdoors. By providing 24 cycle parking spaces on the carriageway this frees up even more space for pedestrians."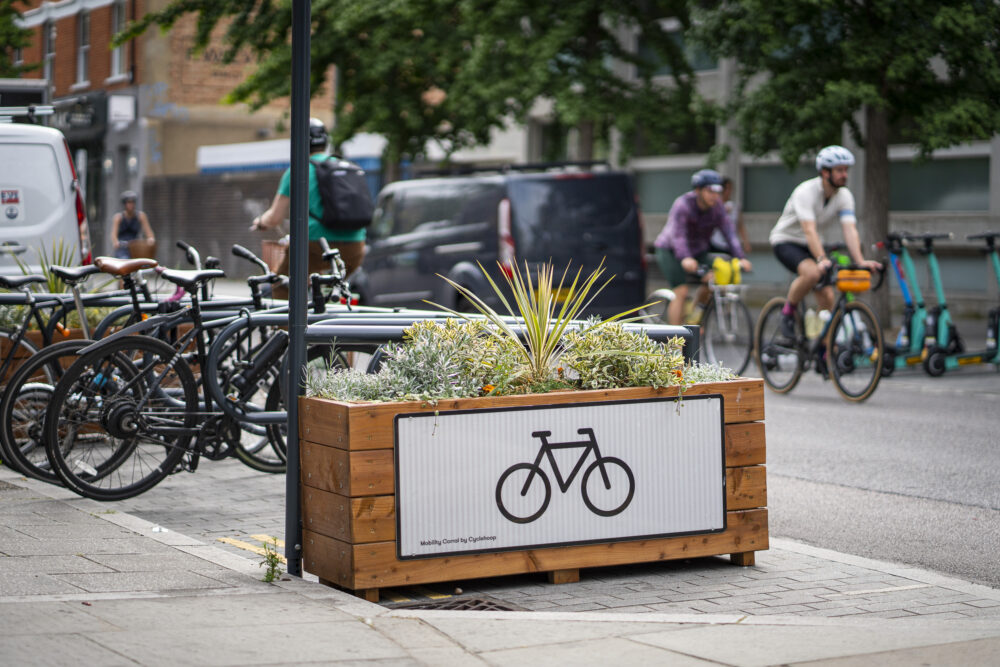 The Parklets provide 24 additional cycle parking spaces on the carriageway
In addition to this, Lambeth currently has 373 on-street Cyclehoop Bikehangars®, providing cycle parking for residents who do not have accessible storage space in their homes.
The flowers that have been chosen for the planters are hardy, drought resistant and planned to perform well in the summer. They are bee friendly varieties, including lavender, hebe and rosemary. Watering and care for planters is being managed by WeAreWaterloo, the local BID.
Harrie Notton, Head of Marketing and Strategy at WeAreWaterloo said, "'Additional and enhanced outdoor customer seating has become a key area of focus for our F&B businesses, post-pandemic; we are therefore pleased that the Parklets on The Cut support the needs of our members, whilst also aligning with the BID's overarching aim of making Waterloo a cleaner, greener and more inviting neighbourhood to work and visit.'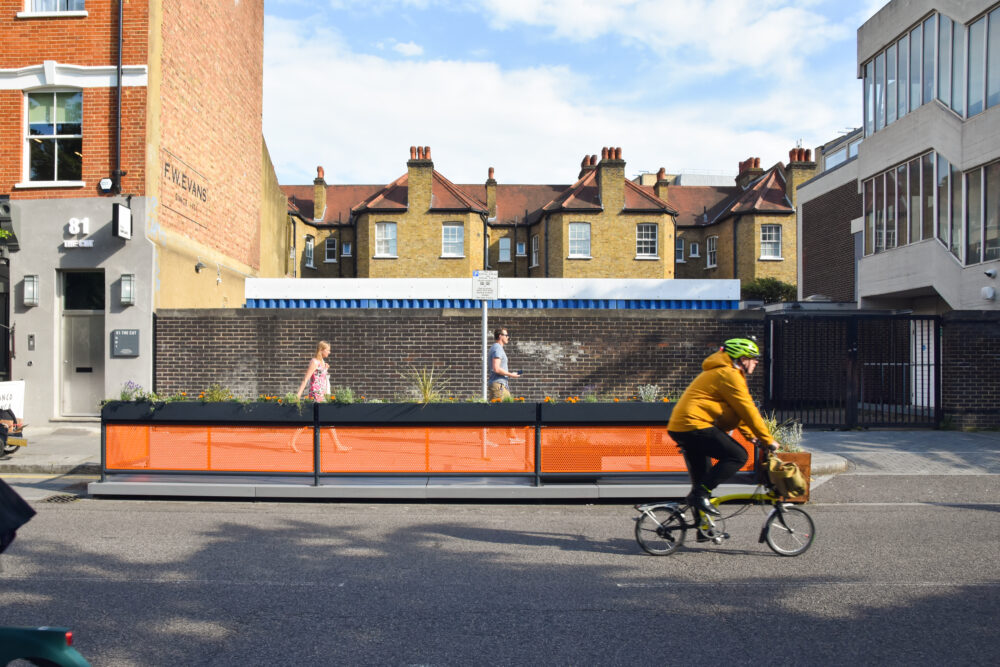 The mesh barriers offer a level of privacy and protection whilst still creating an open feel to the space