Building on the success of the Bikehangar 4.0, the brand-new Cargo Bikehangar provides secure, insurable on-street storage for two cargo bikes in the space of a single car parking bay.
Designed and made in the UK with the same Sold Secure diamond accredited security features, the new product is set to change the cycling landscape.
With retailers estimating a 50% year-on-year increase in cargo bike sales (source: Guardian Cargo Bike usage soars as petrol prices rise), cargo bike adoption is in a period of rapid growth. Businesses and individuals are looking for sustainable transport solutions. Now a common sight on the school run and last mile delivery services, popularity is certainly on the rise. However, secure storage remains a barrier for many, owing to the bulk and high value nature of modern variants.
One parking space = two cargo bikes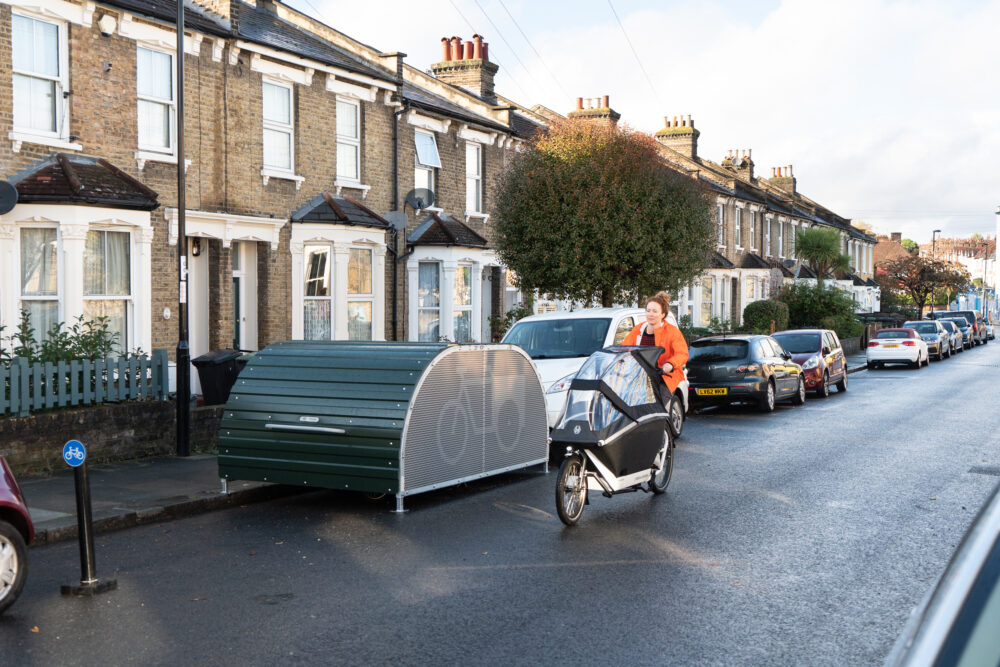 Designed to blend in to the streetscape
The new Cargo Bikehangar addresses this issue by reallocating car parking space and moving cargo bike storage to the carriageway. Security is critical in creating a viable on-street storage facility. Features such as the innovative fail-secure lock interface, dual layer side panels and anti-lever door plates help make this the most secure option on the market. Crucially, it is the only outdoor cargo bike storage solution to achieve Sold Secure Diamond accreditation.
Like the best-selling Bikehangar 4.0, the Cargo Bikehangar is designed to blend with the streetscape. The low profile, curved silhouette and wide corrugated panels make a lower visual impact than the vehicle it replaces. The perforated side panels sport an iconic cargo bike motif for an attractive visual identity.
Last month Cyclehoop celebrated ten years since the first Bikehangar was installed in Lambeth. Built with a sustainable approach to design, the Bikehangar family can be repaired and retrofitted with new features for outstanding longevity.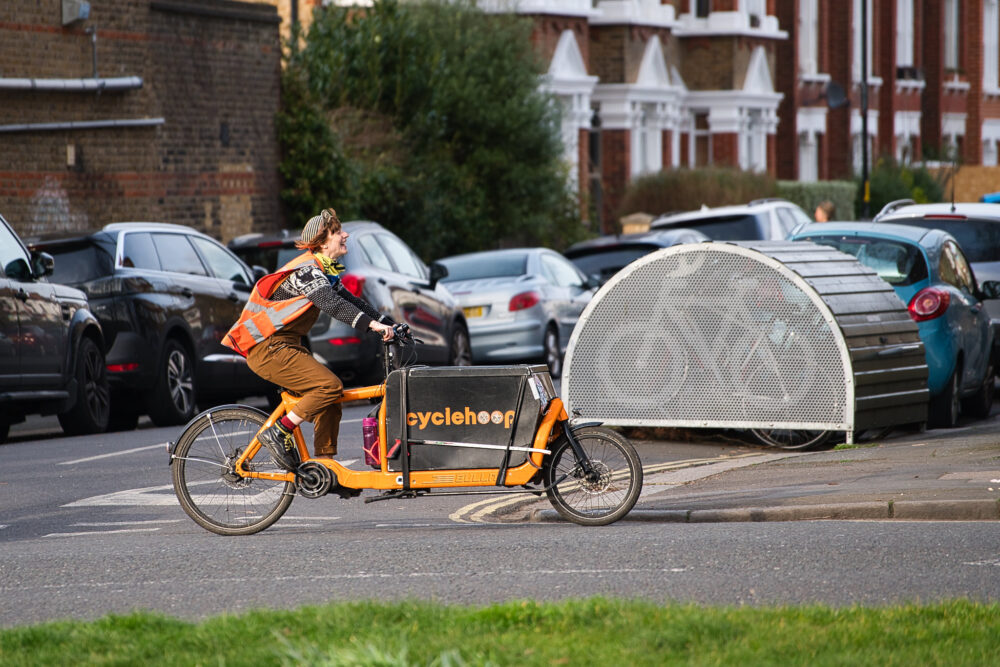 Cyclehoop's fleet of cargo bikes provide maintenance across London
Cyclehoop operates a fleet of cargo bikes to provide maintenance services to their inventory of Bikehangars across London. Anthony Lau, Cyclehoop Founder and Design Director said,
"as cargo bike users ourselves, we understand the benefits they provide to residential and business users alike. With our new Cargo Bikehangar, we're excited to make them a viable option for a wider audience."
Featuring motion activated solar lighting, and with options to add e-bike charging and electronic access, the unit has been developed to support the majority of cargo bikes on the market.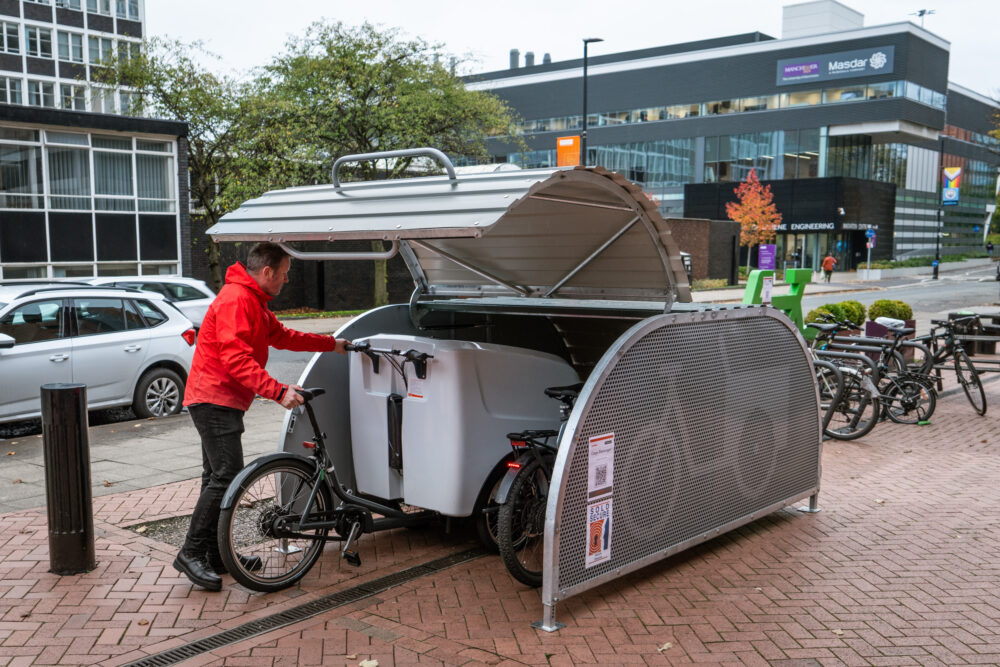 The new product was launched at the Walking & Cycling Innovations Conference in Manchester
On-street cycle parking
The Cargo Bikehangar can be installed on private property and on the public highway. TSRGD compliant high visibility markers are fixed two meters from the door to establish loading space, preventing vehicles from blocking access.
Available to order now, the Cargo Bikehangar will be hitting the streets near you as part of the next generation transport solution.