UK's first San Francisco-style on street 'parklet' has been installed in a redundant road space in Hackney transforming it into a sanctuary for people to sit, hang out and relax.
The borough's parklet has been co-funded by Hackney Council using the Mayor's Air Quality Fund grant, through Sustrans' Innovation Fund.
The 'parklet' is a small urban park that brings seating, cycle parking and a splash of nature to a busy bicycle route on Pitfield Street, along the course of the forthcoming Cycle Superhighway 1. It is based on a design first trialled in San Francisco,  which has since been rolled out by popular demand across America and other cities worldwide, turning car parking spaces into spaces for public leisure.
Parklets are a simple and low cost way to improve the environment and help bring more customers to local businesses. In response to the first weekend of trading since the installation, Neil Thornton, owner of Pitfield Street café, Summer with Monika, said:
"It was used very heavily all weekend & best trading weekend figures for Summer with Monika. The parklet will be a great bonus for cyclist and walkers alike, giving them a chance to sit down, recharge their batteries, and meet friends on their travels. Summer with Monika will be hoping to see lots of people hanging out, having a pit stop on the parklet, or just having a breather on the way to work or back. It is such a great concept; we need more of these in the city."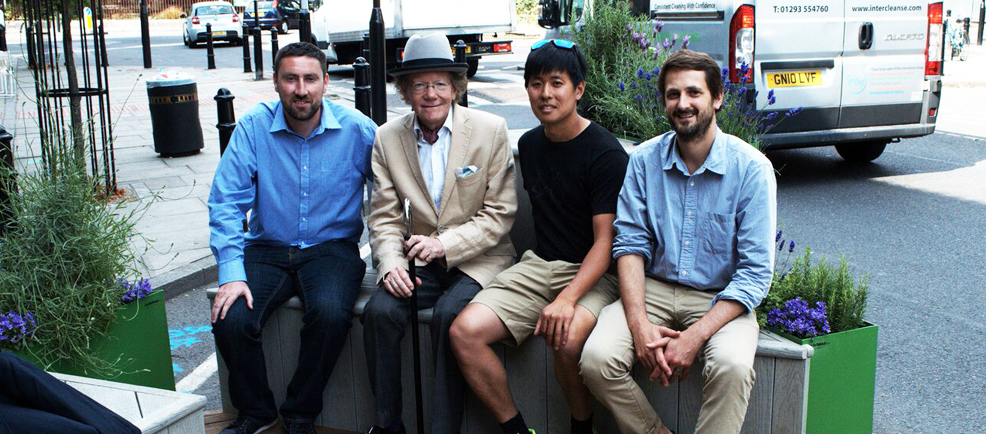 Photo: Kevin Burke (Hackney Council), Maxwell Hutchinson (Former RIBA Chariman), Anthony Lau (Cyclehoop MD) and Ben Addy (Sustrans)
The parklet occupies a 2.6m by 8m space and is a decked platform that provided level access from the pavement. It includes cycle parking for six bikes, benches, planters full of grasses and herbs as well as solar-powered decking lighting for night time visibility.
Hackney's parklet officially opened on Friday 3rd July and will be trialled and monitored for use before being moved to new locations around the borough.
Cllr Feryal Demirci, Cabinet Member for Neighbourhoods and Sustainability, said: "The parklet offers a perfect place to hang out in one of the borough's most creative areas. It allows people to read, eat, relax, people-watch and secure their bikes in an area that's currently lacking in seating and cycle parking.
"It is just one small part of our ongoing transformation of Hackney's neighbourhoods into the most liveable and attractive in London, with cleaner and greener streets, filled with healthier and more active residents. Part of this plan is challenging the assumption that our streets are for vehicles only.
"We want residents to tell us directly about where they would like to see more parklets and, if approved, we'll work with the community to come up with the most appropriate designs."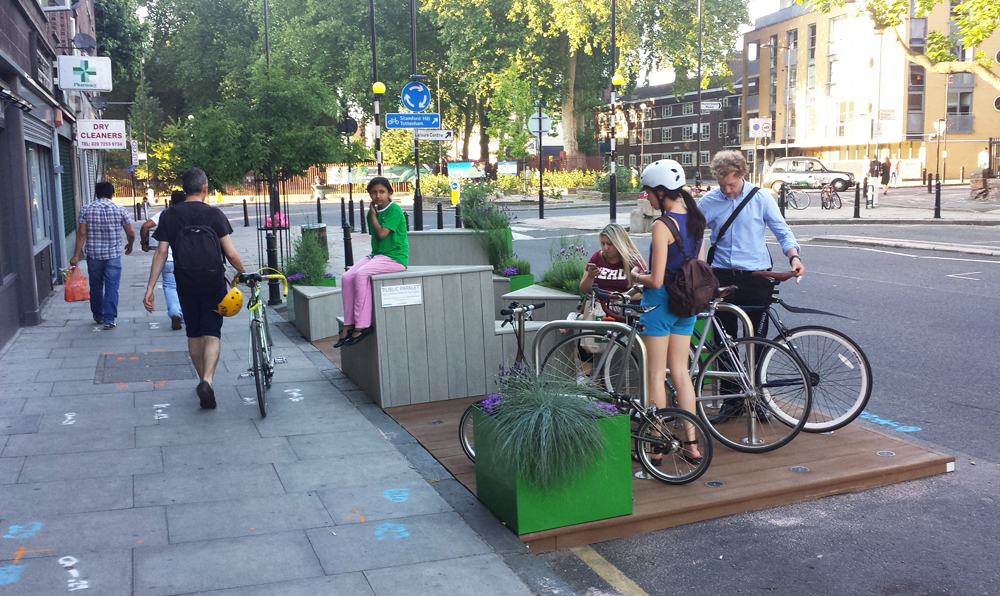 Ben Addy, Sustrans' London Communities Manager, said: "It's possible for our neighbourhoods to be comfortable places, all that's required is to reclaim some of the space from vehicles and hand it back to people. The Parklet sits alongside other interventions, such as 20mph speed limits, that help make the roads social spaces."
Anthony Lau, Managing Director of Cyclehoop, added: "Many streets in London are busy urban environments with narrow pavements, leaving little to no room for people to sit and relax. The Hackney Parklet is inspired by the idea of reclaiming parts of the city for pedestrians and cyclists."
Hackney aims to be the most cycle-friendly and liveable borough in London, with improved air quality, health, community cohesion, and a higher standard of living.
For more information on our Parklet click here