Reclaiming the streets has been a big source of inspiration for our designers here at Cyclehoop. Streets make up 80% of the accessible open space in our towns and cities, offering huge potential as a community resource, therefore taking this back for public use is incredibly important.
Our range of Parklets and Green Bike Ports have all been specially designed to improve community inclusively on city streets and the same can be said for our latest product 'The Planter Rack' which has been freshly installed on Elmfield Road in Bromley.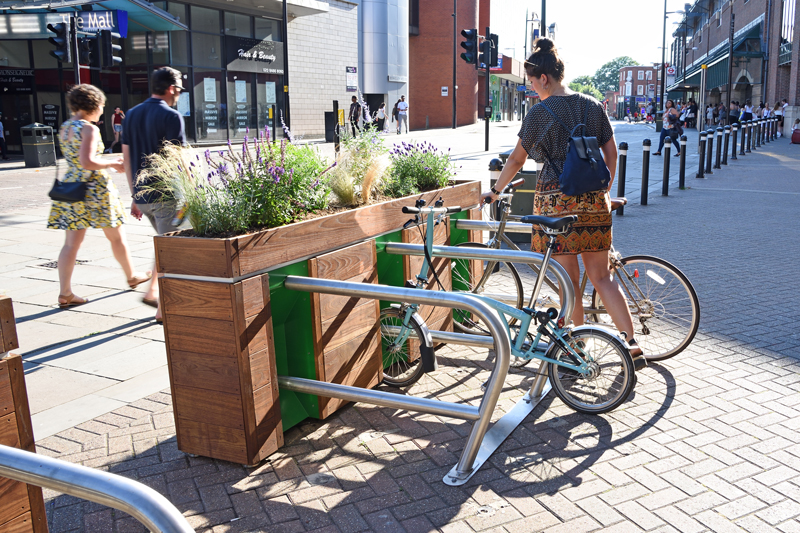 The Planter Rack (inspired by our Hackney Parklet) is a unique product which provides cycle parking for six bicycles as well as built-in planters for greenery, adding a splash of nature to urban environments. Made from sustainably sourced wood and thick steel tube stands, the Planter Rack is a durable, simple and low-cost way to provide cycle parking as well as improving the environment with its all-weather plants.
Its modular design features wheel inserts underneath the planter which keeps its footprint compact, making it an ideal solution for on-street cycle parking without cluttering the pavement. Our Planter Rack is a lovely new addition to our cycle parking family, and is something that would blend in well with the surrounding area.
Read more about our Planter Rack here. 
Check out some photos of the Planter Rack featuring a lovely Tokyo Bike.