Cyclehoop are set to introduce a major network of on-street cycle storage to neighbourhoods across Glasgow following a successful Bikehangar pilot scheme.
With around 70% Glasgow's homes in flat or tenements, finding safe spaces for cyclists to park their bike can be a real challenge when communal property rules often prevent storage on stairwells.  Even then, having to carry bikes up and down flights of stairs can act as a deterrent to people cycling regularly.
But the introduction of 130 Bikehangars on streets throughout Glasgow will support the growth of cycling in the city and make cycling a more attractive travel option that residents rely upon routinely.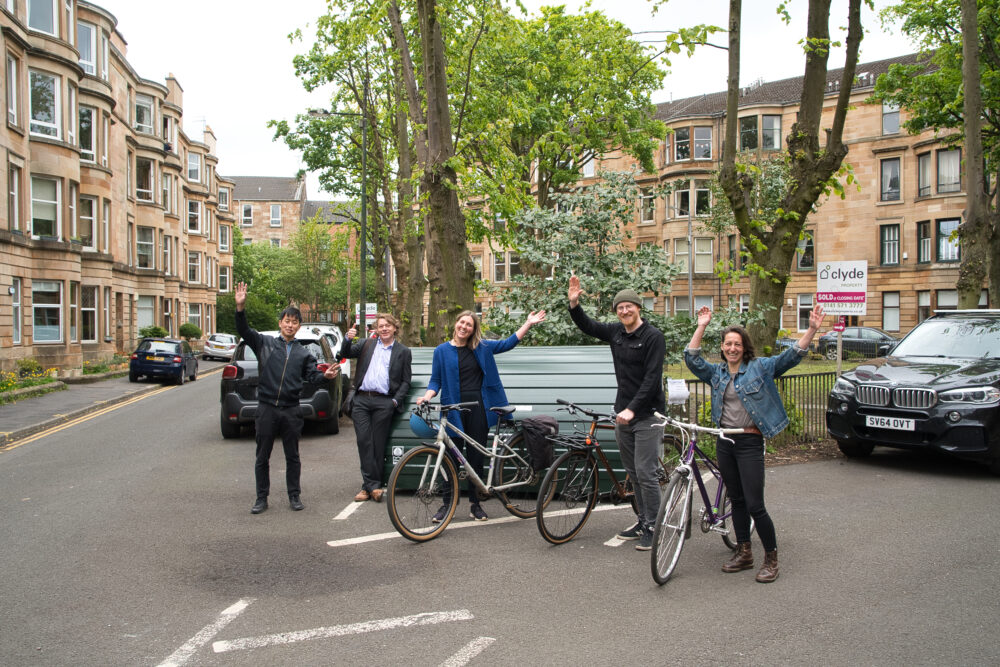 Cyclehoop Founder Anthony Lau with project partners celebrate first Bikehangar install
Councillor Anna Richardson, City Convener for Sustainability and Carbon Reduction, backed the scheme as a way to build greater reliance on more sustainable forms of transport as part of the effort to tackle the climate emergency.
Councillor Anna Richardson said: "With so many of us in Glasgow living in tenements or flats, bike storage is a real issue for people who cycle or who are keen to take up cycling.  Keeping bikes in stairwells can cause obstructions, which creates a safety risk and can put owners at odds with other residents. Bikes kept on stairwells are also at a greater risk of theft.
"But having access to secure storage that's easy to use will take away a significant barrier that deters people from relying on a bike. Our new scheme with Cyclehoop will make using a bike more attractive and ensure how we get about Glasgow is more active and sustainable. Encouraging greater reliance on the bike as an ordinary mode of transport is a vital part of our efforts to decarbonise the city's transport system."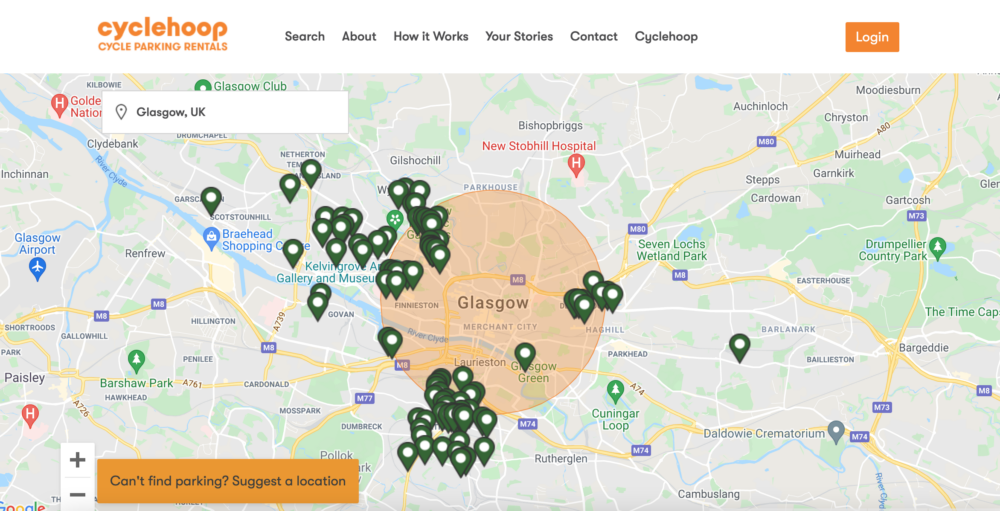 Residents can visit the Cyclehoop Rentals website www.cyclehoop.rentals to view available locations and apply for a space now. The first phase comprising of 62 unit installations concluded July 2021 and exceeded occupancy expectations in just two months. Cyclehoop founder and design director Anthony Lau said:
"Interest in the Glasgow Bikehangar scheme has been incredibly positive. In the first five days after the scheme went live on our website, 420 applications were received."

"On Monday alone, we had an additional 1700 visitors to our rentals websites, all of which we attribute to interest in the Glasgow scheme."
Installation of the second phase of 72 units is expected to conclude early April 2022. Cyclehoop continues to partner with Scottish cycling charity Bike For Good to carry out maintenance of the units.
Edinburgh was the first city outside of London to install a major network of Bikehangars with 108 of a planned 180 units installed in October 2020.
Cyclehoop Founder and Design Director, architect Anthony Lau said: "Making cycle storage accessible is key to enabling people to cycle their shorter journeys. We designed the Bikehangar to allow those who cannot keep their bicycles at home, to store them on safely and conveniently on their street, protected from the weather."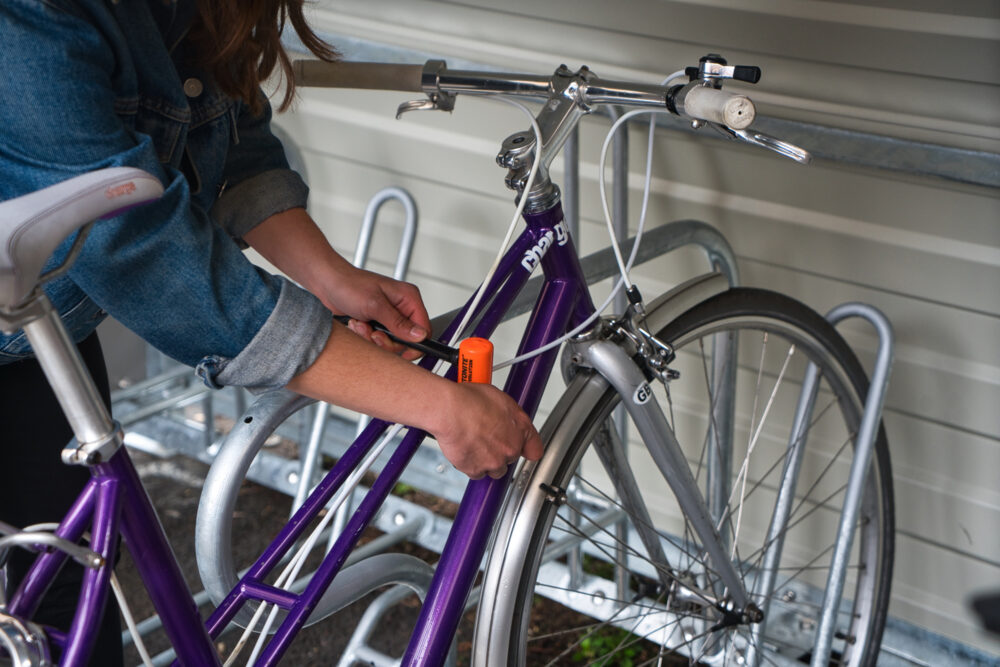 The Bikehangar 3.0 with Sold Secure Gold rating
The latest Bikehangar design has received a Gold status from independent security product testing agency, Sold Secure. Cyclehoop's Sold Secure Diamond model with angle grinder resisitance, the Bikehangar 4.0, is expected to be released late 2021.
If this trial is successful the council will look extend the use of on-street storage into other parts of the city where ever possible. Residents can suggest potential locations for storage on the Cyclehoop Rentals website and data collected by Cyclehoop will be reported back to the council for further consideration.
Interested in kick-starting a Bikehangar pilot in your area? Reach out to our friendly sales team using the button below.
Contact Us
"With so many of us in Glasgow living in tenements or flats, bike storage is a real issue for people who cycle or who are keen to take up cycling. But having access to secure storage that's easy to use will take away a significant barrier that deters people from relying on a bike. Our new scheme with Cyclehoop will make using a bike more attractive and ensure how we get about Glasgow is more active and sustainable. Encouraging greater reliance on the bike as an ordinary mode of transport is a vital part of our efforts to decarbonise the city's transport system."

Councillor Anna Richardson

Glasgow City Convener for Sustainability and Carbon Reduction