With bike theft accounting for 53% of their claims in 2021, our insurance partner Bikmo knows a thing or two about locks and how to lock your bike properly.
They can cover your cycle and kit against theft, accidental damage and much more – worldwide, 24/7. That's why we partnered with them to offer Cyclehoop members an exclusive 10%* discount on a full Bikmo policy, giving you peace of mind while your bikes are locked in our Bikehangars and beyond.
Check out Bikmo's top tips below:
Bikmo's guide to locking your bike

1. Use a Sold Secure rated lock 
We recommend locks that are accredited as Sold Secure. Sold Secure is the premier testing and certification house for security products. As such, at Bikmo, we use their ratings system as a minimum requirement for a lock used to secure a cycle "away from home". 
Which Sold Secure rating lock do I need?
With our policies, it's dependent on the 'as new' replacement value of the bike as to which lock rating you'll need: 
Bike value up to £250 – Bronze Rating 
Bike value £251- £1,500 – Silver Rating 
Bike value over £1,500 – Gold Rating 
The rating is based on the amount of time and the tools required to try to break the lock, so it's always worth buying the highest rating. The higher the rating, the longer it took to break into.  
2. What type of lock to use
"D locks" (D shaped when locked) often come out on top due to their strength, reliability and weight. D locks can fit easily into a backpack or clip onto the bike for commuting.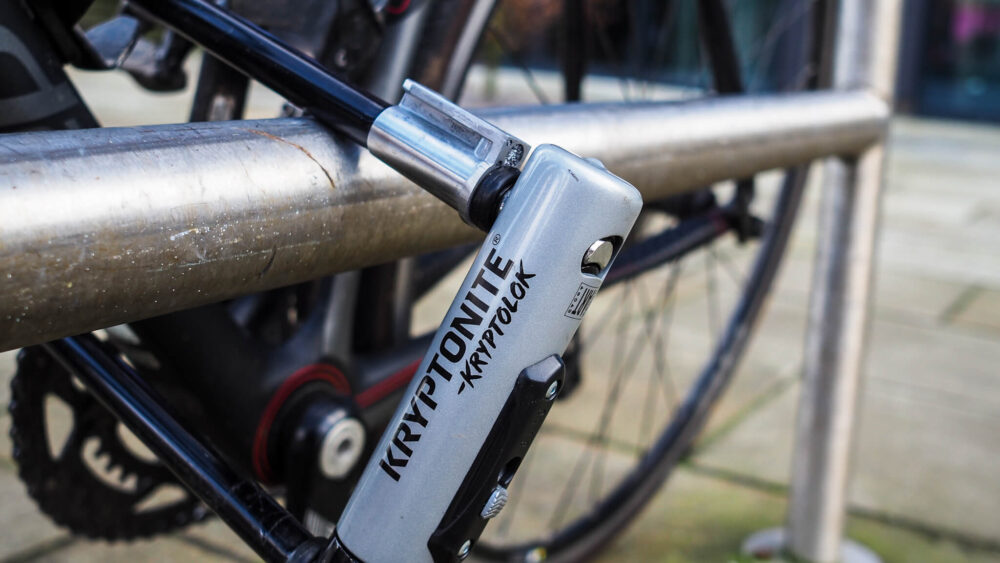 3. How to lock it correctly 
Always lock your bike to a solid and immovable object –  think cycle racks and stands, cyclehoops, lamp posts, secure railings and of course Bikehangers.  
Lock your bike through its frame – never lock your bike by the wheel! Most bikes these days have quick release wheels, so always lock your bike through its frame. 
Bike lock position – make sure you position the lock where it's impossible for a thief to use leverage or force against another surface to smash / strike a lock open. Consider running an additional cable lock through the saddle rails to prevent saddle and wheel theft.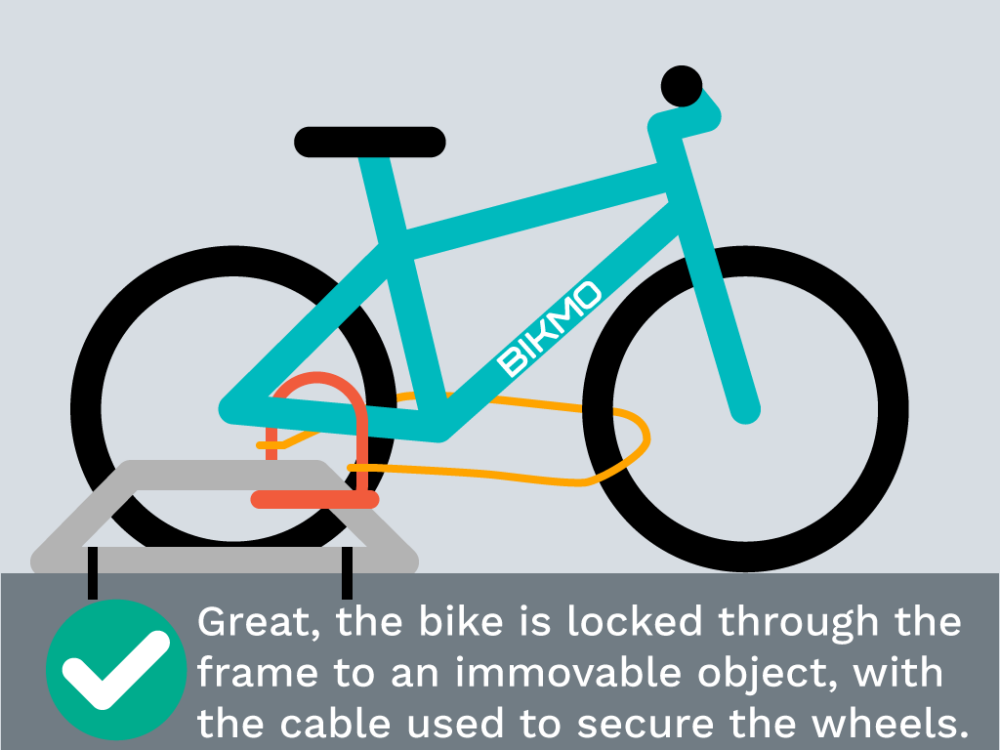 Check out our handy locking requirements video and our full locking requirements here.
Why should I consider cycle insurance?
Many home insurance policies will not cover theft away from home or in a Bikehanger.  
As cyclists, we find this frustrating. That's why Bikmo offers straightforward, award-winning policies to cover you worldwide, 24/7. Plus, we offer Cyclehoop members an exclusive 10%* discount. Our policies cover you against theft and accidental damage of your bike(s), accessories and much more. 
If you're insuring an e-bike (including e-cargo bikes), you'll even benefit from an additional 25% reduction on your premium compared to regular cycles. Just tick "e-bike" at our checkout. 
*Minimum premium £3.73/mo and policy wording applies. 
This promotion is provided by Bikmo Limited, 1 Minerva Court, Minerva Avenue, Chester, CH1 4QT, who are authorised and regulated by the Financial Conduct Authority ref. 745230