Reallocation of road space could happen considerably quicker and more cost-effectively thanks to a clever new cycle parking product. The Mobility Corral system enables local authorities to provide attractive and safe on-street micromobility parking, including cycles and e-scooters, freeing up vital pavement space for pedestrians.
Cyclehoop's Founder and Design Director, architect Anthony Lau announced the product launch at the UK's annual Cycling and Walking Innovations summit in January. The Mobility Corral system enables local authorities to provide cycle parking 80% quicker and 30% more cost-effectively said Anthony Lau.
"Where a council would previously take 150 days to provide 1000 protected cycle spaces on street, they can now do so in an incredible 21 days".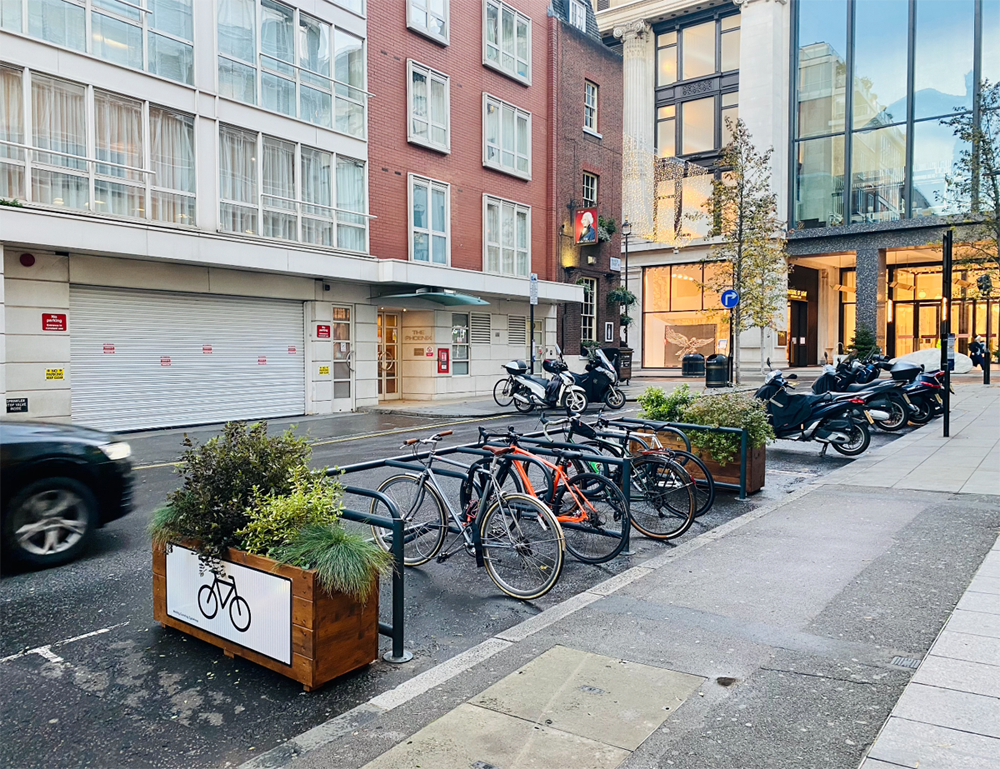 Mobility Corral with additional planters on in City of Westminster
The product release comes as local authorities around the UK undertake ambitious plans to reallocate road space for active travel, in line with current government guidance.
"We want half of all journeys in towns and cities to be cycled or walked by 2030,"
Transport Secretary Grant Shapps told the U.K. parliament's transport in a remote meeting held in February.
To meet this target, the provision of cycle and micromobility infrastructure has moved up the priority list of councils, particularly those granted EATF funding. However, many councils are struggling to move at a pace great enough to meet demand.
Provision of a cycle parking bay on the carriageway – often referred to as a 'buildout' – would usually require three days of disruptive street works to install. The end result is expensive and inflexible to the dynamic mobility requirements of cities and towns.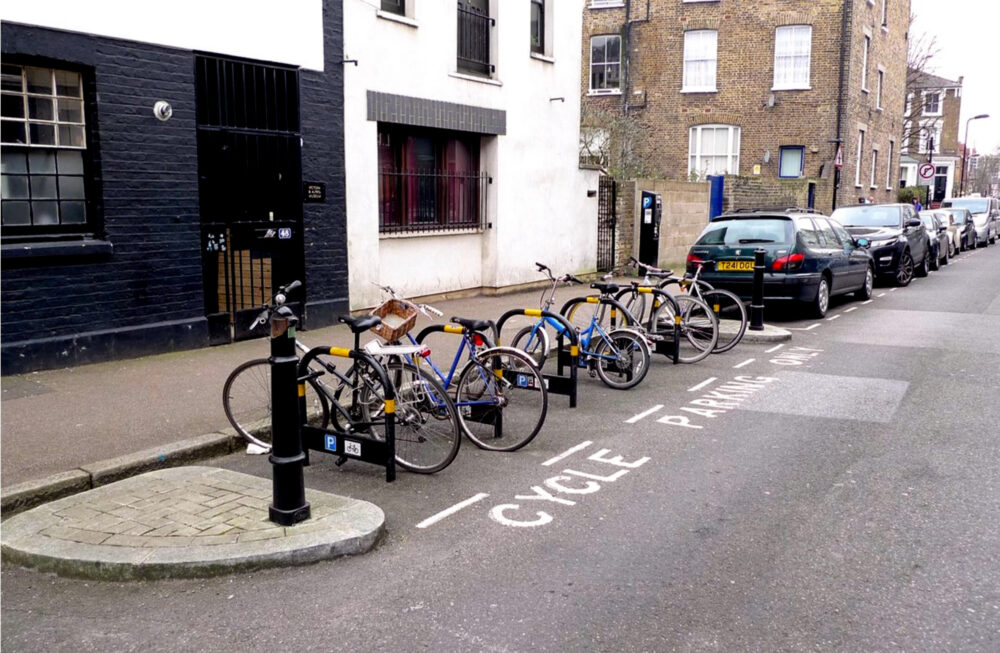 Example of a 'buildout', protected cycle parking provided on-street
Cyclehoop's Anthony Lau says their breakthrough product responds to the transport challenges currently facing councils. He points to the Mobility Corral's integrated flat-pack design as being what saves council resources and time.
"We have completely removed the need for groundworks, so it's faster and more cost effective than traditional methods. All the important functions are integrated – including signposts – and it can be space efficiently flat-packed for transport."
Mobility Corrals don't just cater to standard cycles. The one system can provide parking for a range of micromobility types including shared e-scooter or cycle schemes, family bikes and cargo bikes.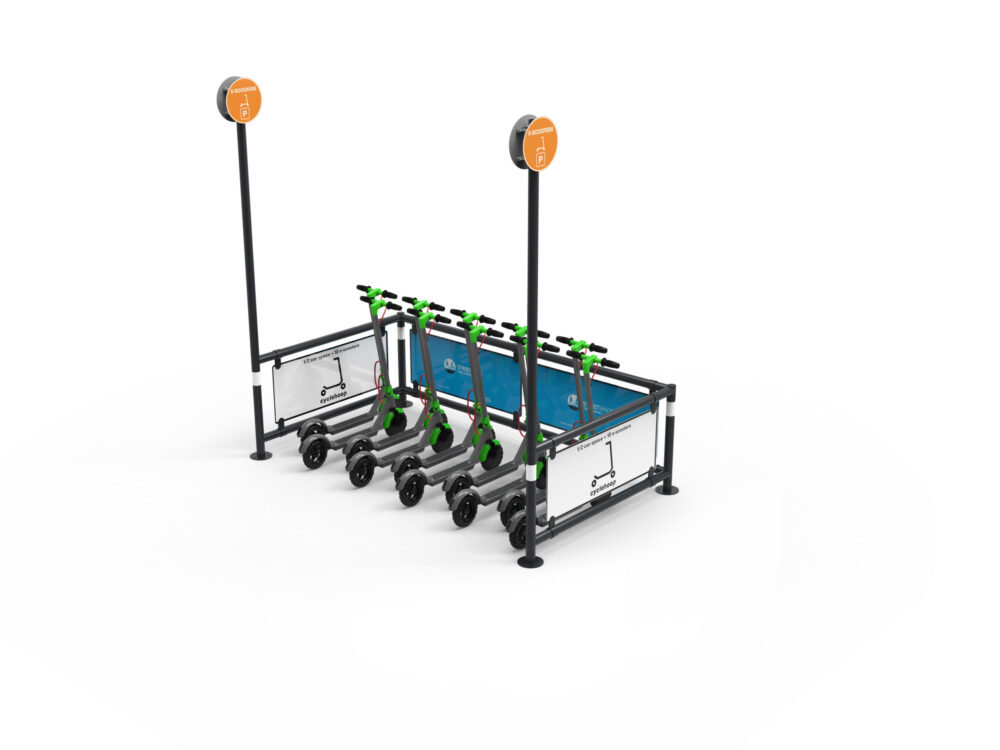 The Mobility Corral caters for a range of micromobility types
Mobility Corrals are made from high quality recyclable steel and can be provided as permanent or temporary infrastructure. A standard corral uses the space of one car to provide twelve cycle parking spaces and can be installed in an hour.
 The first Mobility Corral was installed in the City of Westminster in partnership with the New West End Company BID and city council on a trial basis.
New West End Company Project Manager, Will Dyson, said the provision of safe and sustainable transport infrastructure is important to the vibrancy of the area.
"The new Mobility Corrals protect cyclists and bikes from road traffic, are made of recyclable materials and can include planters to introduce greenery and biodiversity to the streets".
Westminster City Council Transport Officer, Steve Tse, said the city council were pleased to support the project.
"Sustainable transport initiatives which improve the public realm play a vital role in bringing people back to the area safely and will help the city meet its net-zero emissions target by 2040.".
The city council has since purchased two further corrals which are due to be installed in Oxford Street this summer.
A London authority is set to provide a network of corrals this summer and more orders of this scale are anticipated. Last month Cyclehoop won a tender to provide a council with 70 Mobility Corrals to bring order to the borough's shared bike schemes.
Founder Anthony Lau said, "Through innovative design, active travel targets look much more achievable. Councils can now provide cycle infrastructure 80% quicker and 30% more cost-effectively. Healthy streets are just around the corner."
Cyclehoop works with 26 local authorities to run the largest rental network of residential cycle parking in the world. Their innovative Bikehangar scheme was recently launched in Edinburgh and is expected to continue growing throughout the UK.
View Mobility Corral