At Cyclehoop, we get to meet and work with a huge number of awesome, inspiring and interesting people. When this story came to our attention, we knew we had to share it with all of you!
In early November, Karun Chhokar got in touch with us after he and his brother bumped into Maxwell Emmanuel by our Deluxe Repair Station in Liverpool Street Station.
Maxwell is a 56-year-old from Guyana who has been homeless for the last 8 months. Prior to this, he used to be a bike mechanic. Unfortunately, Maxwell was diagnosed with cancer last year and could not work during the period of chemotherapy as well as having his bladder removed, so he lost his job. Having no income to pay his rent after beating cancer, he had no choice but to live on the streets.
Karun and his brother bumped into Maxwell at the cycle parking outside Liverpool Street Station. Karun's' brother needed his brake replaced, which Maxwell was more than happy to help him with using our Deluxe Repair Station. Whilst Maxwell was fixing the bike, a Deliveroo cyclist passed by and asked is he could fix his puncture. After half an hour, Maxwell had fitted a new brake and repaired a puncture, making £15 for his services.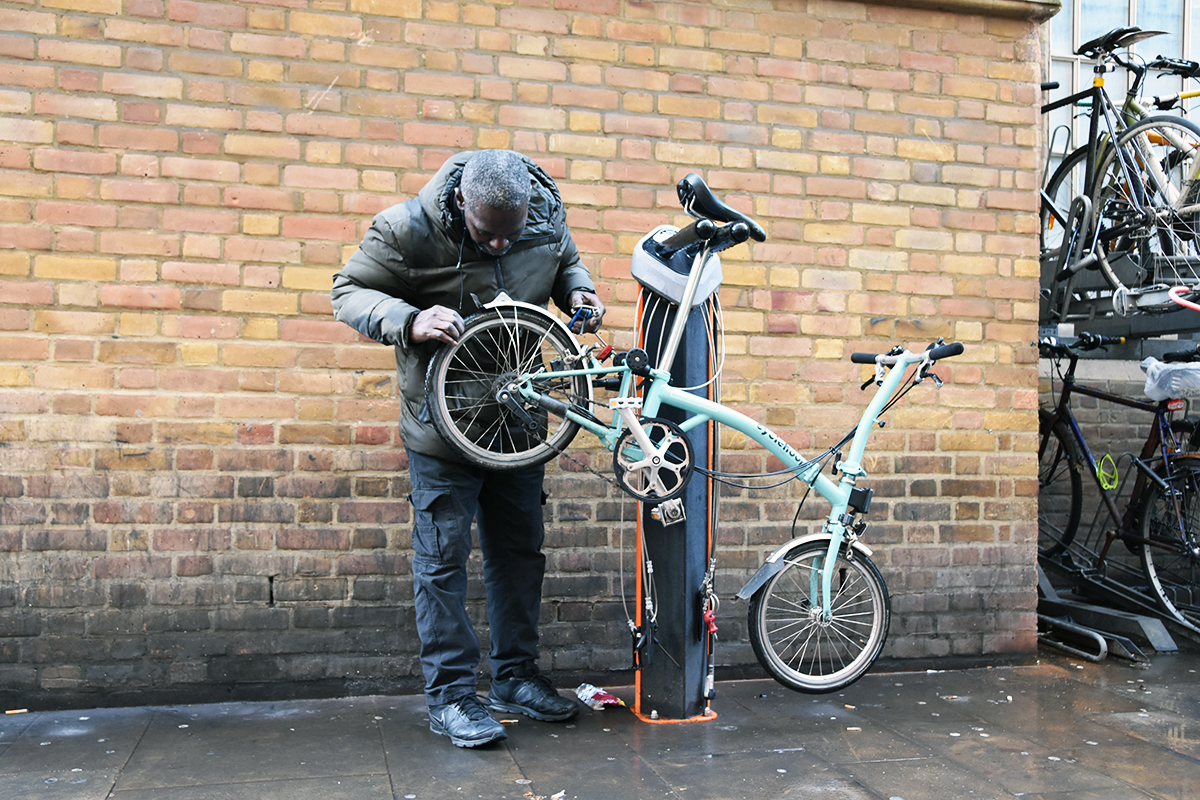 You can read more about this story here: https://m.facebook.com/karun.chhokar/posts/10213104416397044
As some of you may know, this product which is designed by our American partners, Bike Fixation, is an all in one repair facility, which provides cyclists with free equipment to make adjustments and repairs on the spot. You can find our repair stations and pumps dotted around London here: https://www.cyclehoop.com/pumps/
Since Karun shared this story on social media, Maxwell has had around 20 people actively come to visit him and offer him a donation in exchange for his services. It's a great example of pushing past the stigma attached to homeless people, interacting with them and taking the time to understand their situation. It's clear that Maxwell wants to be working for his money and to offer his skills in exchange for a fair donation.
Karun's aim is to get Maxwell into permanent accommodation and regular employment. Maxwell has strong bike mechanic skills and is more than happy to help anyone with a bike issue, so please share this with anyone in your community that would benefit from his expertise.
Karun's charity, The CC Foundation will be holding a food/clothes donation point on Brentwood High Street on Saturday the 16th of December, which is aimed to create care packages for homeless people in London. Follow their activities here: https://twitter.com/CCFoundation17
Cyclehoop are happy that one of our products has enabled someone to earn a bit of money and hopefully improve their circumstances. We want to share this story with our community to raise awareness of Maxwells' story.
If you would like to get in touch with us about ways you can help, please email: nicky@cyclehoop.com