Cyclehoop are pleased to announce that we have just installed our 1000th Bikehangar in London as part of our Cycle Parking Rentals Scheme. The location to host this significant Bikehangar is Somerford Grove in the London Borough of Hackney, who are celebrating their 300th unit installed to date, creating 1800 cycle parking spaces, a monumental achievement for the borough!
To mark this milestone, our designers at Cyclehoop have customised a very special Bikehangar with an innovative design inspired by the boroughs dedication to cycling. Residents of Somerford Grove in Hackney will be able to enjoy this special design, whilst having the peace of mind that their bikes are safe and dry. Our team popped down to visit Somerford Grove and its residents this week to officially open the Bikehangar with Cllr Feryal Demirci and officers from Hackney Council.
Cllr Feryal Demirci, Cabinet Member for Neighbourhoods, Transport and Parks says;
"Most Hackney residents live in blocks flats or converted houses without anywhere to store bikes. A lack of secure and convenient bike storage is a real barrier that prevents people from owning and using a bike, so the on street hangars are extremely popular. Far too much of our public realm is dominated by car parking, so I'm delighted that we've now installed our 300th hangar, which allows over 1200 residents to store bikes in the same space taken up by one private car."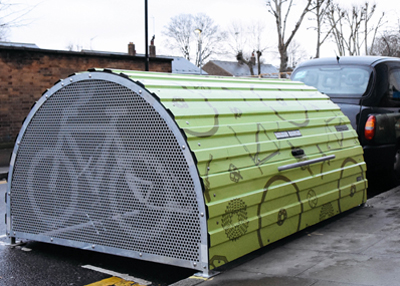 Cyclehoops' award-winning Bikehangars were first ordered in February 2013 by the London Borough of Lambeth. The success of this trial has seen our Cycle Parking Rentals scheme rolled out across 21 boroughs in London over the past four years.
Reaching the 1000th Bikehangar means that paired with our Bikelockers and Cyclehubs, Cyclehoop have created over 7000 secure cycle parking spaces across the capital. This is a great reflection of the fast-growing cycling culture in London. One in six people in the capital commute by cycling and more than half a million journeys are made by bike every day. London has made huge progress in the development of its cycle infrastructure over the past few years, going beyond simply painting blue cycle lanes on busy roads. Our Bikehangars dotted around the city are just one example of this hard work.
Cyclehoop MD, Anthony Lau says;
'We are proud to have reached the milestone of our 1000th Bikehangar in a borough that we have a great partnership with over the past few years. Our Cycle Parking Rentals Scheme has been on an incredible journey and this is a great moment to mark its success. Cyclehoop will continue to design innovative solutions to make cycling safer, secure and more convenient. '