This August, the first Cyclehoop was installed in Westwood Village, LA, as part of a pilot program that will see 750 Cyclehoops installed throughout the state. Sold through our partner and US distributor Bike Fixtation, this recent provision of on-street cycle parking is Cyclehoop's largest international exported order.
In Los Angeles, locking your bike to a parking meter post is still illegal, but Ordinance 183951 (passed last year) lifts the ban for the purpose of allowing this Cyclehoop pilot.
Meter post cycle parking is a convenient and secure solution for people to park their bikes and visit local businesses. Not to mention, they don't cost as much as standard U-racks and they take up less space by capitalising on existing sidewalk infrastructure.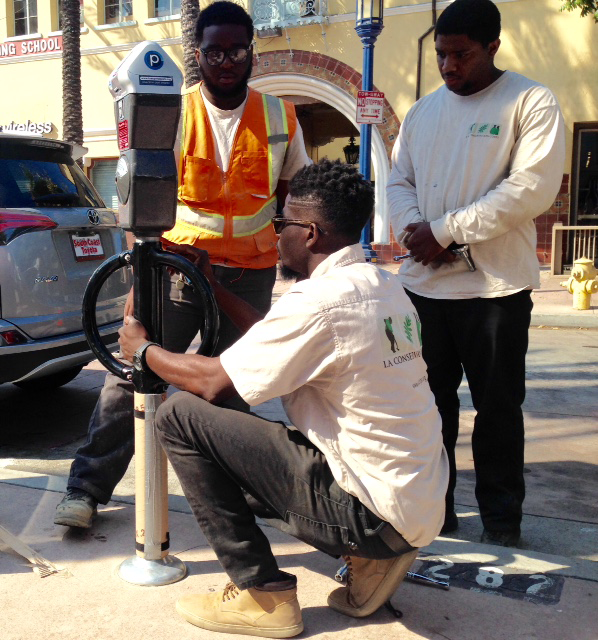 Over the course of the last few months, LADOT Bike Program staff surveyed all of the parking meters in Westwood Village to find those that are best suited for Cyclehoops. Their criteria for selecting parking meters to install a Cyclehoop on to, was centred on safety and accessibility:
Parking meter is near the entrance of a business or visible through a large window,
Parking meter is at least three feet away from street furniture and trees, and
A bike attached to the parking meter does not block pathways that must remain accessible
86 Cyclehoops have been installed so far by LA Conservation Corps, with the rest due to be installed in the coming months. Westwood Village was first on the list, due to its high-volume bike usage. Next, the program will provide the Hollywood Walk of Fame with brand new bike parking. Great Streets corridors will also be furnished with Cyclehoops.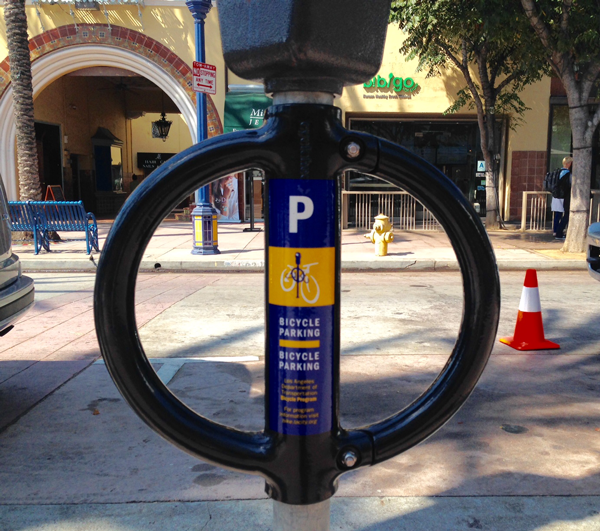 Andy Lambert of Bike Fixation said "We at Bike Fixtation are very proud of the fact that Cyclehoop has been a trusted and valued distribution partner of ours for the past five years. We see huge potential in the U.S. market for the Cyclehoop bike rack and we are very excited to be supplying this innovative and practical bicycle parking solution to the City of Los Angeles, and beyond!"
Additional meter post parking districts will be identified during evaluation of the program's success. You can share your experiences of using these Cyclehoops by tweeting @LADOTBikeProg and @Cyclehoop using the hashtag #BikeLA