This Christmas brought some very special presents for the bright and bold city of Hong Kong as the first ever Cyclehoop was placed in Kowloon Park in December. The installation of the Cyclehoop forms part of the Hong Kong Shen Zhen Architecture Biennale, an exhibition based exclusively on the set themes of urbanism and urbanisation.
Anthony Lau, MD of Cyclehoop (inventor of the Cyclehoop and originally from Hong Kong) is keen to bring back innovative solutions that he has developed and installed around the world to help grow cycling in his home city. He said "I am very honoured to have been invited to exhibit at the Shen Zhen Architecture Biennalle in my home city. I feel very proud to be sharing my Cyclehoop with the city I love, and I hope it creates an engaging discussion amongst Hong Kong's cycling community." The official installation was followed up with a random pop-up of another Cyclehoop on the streets of the city.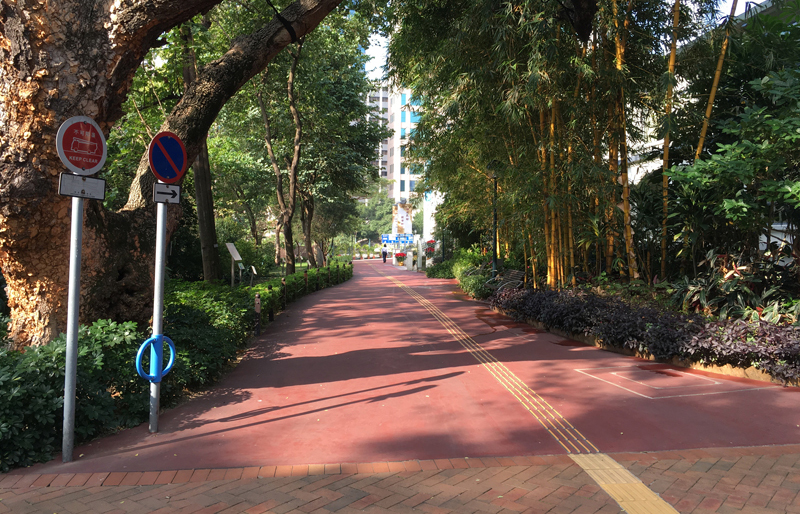 Look out for the little blue Cyclehoop as you might see a few more of them popping up in the streets of Hong Kong
Cycling in Hong Kong has seen a huge growth in recent years, particularly recreational cycling. Although surprising to some, cycling is already a popular form of transport used by many people in the new territories in Hong Kong to commute to their local train station.
Hong Kong suffers from a huge problem of poor cycle parking provision, which results in cyclists being forced to lock their bikes to any available street furniture. As a result the government often operates their controversial bicycle 'clearance' where bicycles not locked to racks, are considered illegally parked and removed with little notice. Often the bicycles are sold for scrap or sent to the landfill. This ridiculous practice angers many cyclists and is caused by the lack of a clear government strategy on how to organise bicycle parking.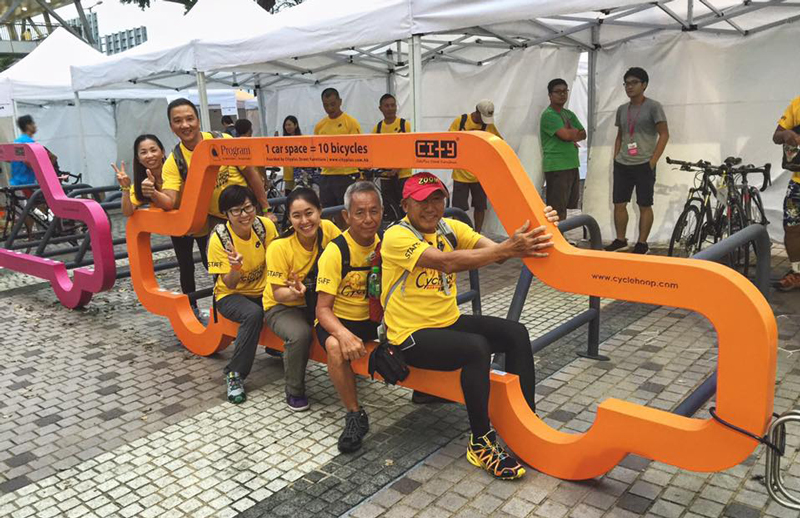 The Car Bike Port bike rack made a big impression at Hong Kong's first large scale public cycle event (Photo: Program)
The presence of the first ever Cyclehoop will allow cyclist of Hong Kong to lock their bike to a purpose built parking solution – which is designed to keep the bike parked in an upright position – instead of allowing it to slip down and block pedestrian. Because of this functionality it is hoped that any bike using the Cyclehoop will avoid the government's 'clearance' sweep.
"The Cyclehoop is not intended as the solution for Hong Kong, but we hope these colourful blue hoops will provoke debate on cycling infrastructure" says Anthony Lau.
"We installed the Cyclehoop inside Kowloon Park to highlight the growth of cycling in Hong Kong and the challenges we face to try to support this sustainable form of transport. By retrofitting an existing signpost into a bicycle rack, we question what bicycle parking should be and suggest alternative ways to find creative cycle parking solutions. As an organisation, Cyclehoop remains committed to breaking down the barriers stopping people from cycling."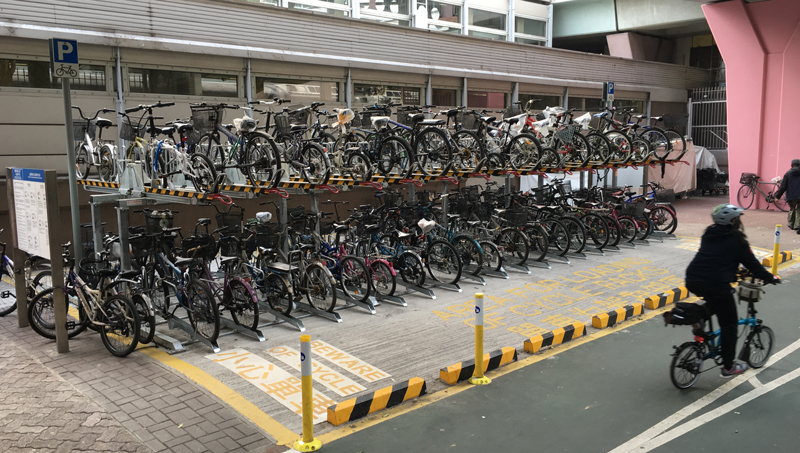 Cyclehoop installed a large two tier rack in the New Territories that has proved very successful and is in constant use
2015 saw the start of Cyclehoop's expansion of products in Hong Kong working with their local partners Program to deliver ;
The installation of the first public bike pump and repair stand along the cycle track in West Kowloon, along with solar powered cycle lane lights
The installation of a large two tier rack in the New Territories
The use of the 'Car Bike Port' bike rack in Hong Kong's first large scale public cycle event
From January 2016, Cyclehoop's Bikeshelf and Strida Bike Stand is available to buy from the popular cycling shop, G.U.M.hk .