Reclaiming the streets has been a hot topic over the past few years with environmental sustainability being a key talking point within the debate. In London, streets occupy 80% of the accessible open space and with our dwindling green spaces, it's imperative that we look at the potential in these as a community resource. It's time for us to take back this space for public use and create greener, cleaner and safer streets for our communities. There is no doubt that this has been a big source of inspiration for our designers and for all of us here at Cyclehoop.
This Autumn has been bursting with sustainable travel campaigns such as Cycle to Work Day, Car Free Day, EU Mobility Week and of course the LovetoRide National Cycle Challenge. This coincides with the one-year anniversary of the installation of our Green Bike Port on Christopher Street, Shoreditch. This product embodies the messages of taking back redundant space and transforming it into something useful, safe social and green.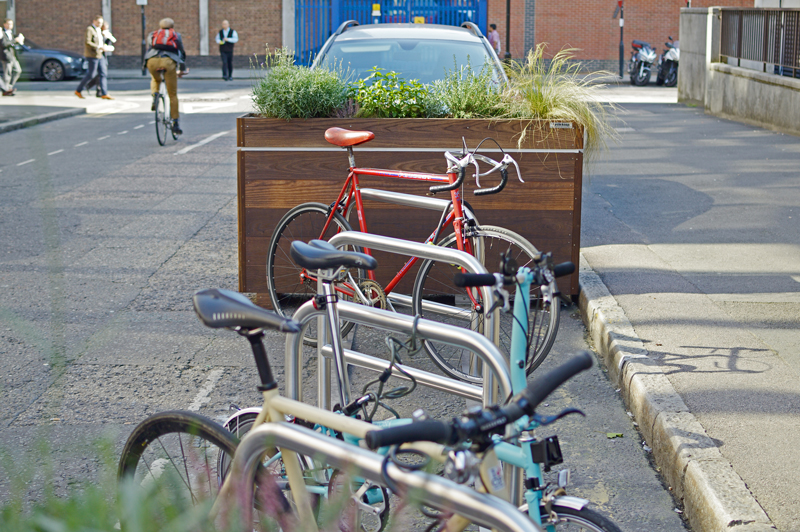 Commissioned by Hackney Council, this project was inspired by our successful Car Bike Port and resonates similar ideas of making new cycling infrastructure that re-uses road space, or space currently used predominately by cars. We wanted to develop this product into something that would encourage public use, as well as cycle parking, something that was green, diverse and blended into the local area.
The Green Bike Port replaces a car parking space with bike parking for up to eight bikes to be safely parked. It includes seating for pedestrians to rest, as well as built-in planters which not only provide space for greenery – they also act as physical barriers to protect the port from cars, creating a tranquil oasis in a busy urban street. It is fitted with reflective strips on the exterior which are visible 360 degrees for added safety, especially at night. This product is designed in a modular fashion making it easy to install and transport to new areas if required, making it ideal for local councils. This secure, functional and easy to use cycle parking is a big incentive to encourage people to travel by bike, rather than car and provides the local community with a multi-use offering far exceeding that of a parking space.
We are extremely proud of this product, and you should definitely pop down to Christopher Street, Shoreditch to take a look, park your bike, have a rest and enjoy this innovative cycle-parking.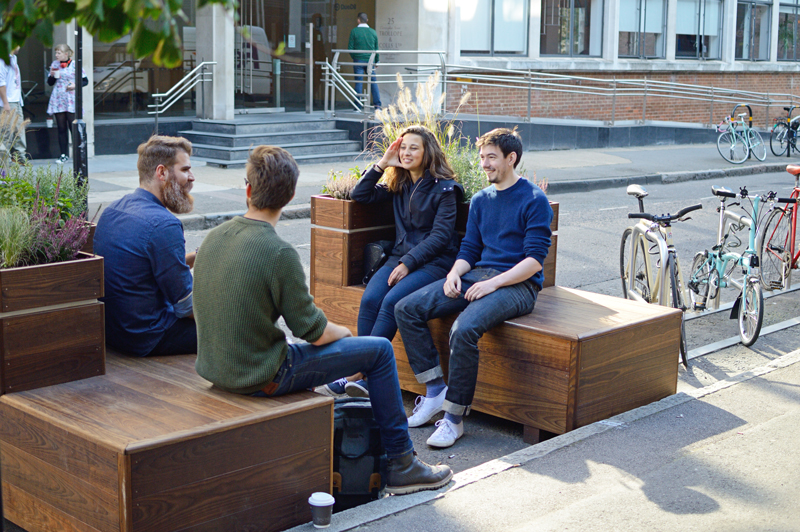 Design features:
Replaces car parking spaces with bicycle parking (8 spaces for bikes)
Can re-use redundant road space
Makes the area more attractive for pedestrians (seating, plants, less cars)
Adds plants to the urban environment improving air quality.
Uses planters as physical barriers to protect from cars
Uses reflective strips visible 360 degrees for added safety, especially at night
Offers easy access from both the road and pavement
Low install costs – no need to create expensive concrete bases
Easy to transport to new areas if required