Here at Cyclehoop, we recognise the widespread motivation to capture new customers and generate awareness through interesting and exciting experiential events, particularly as we enter the warmer months of the year there is, at long last, there is the opportunity to hold events outdoors. Why not make your event better, by getting your customers to cycle as well?
In 2010, we introduced our iconic Car Bike Port, an eye catching and innovative design that provides parking for ten bikes in a standard car parking space. Since then, we've been installing this fun product as both temporary and permanent cycle parking all over the world.
It has popped up from Finland to Hong Kong, making an appearance at events including: Lambeth Country Show, PARKing Day, Car Free Day, Velo City Nantes, The Cycle Show, Cycle City, London Cycling Campaign Awards and many more.
The versatility of this product means that it can be used in a variety of contexts and we've also designed in an integrated advertising panel for our customers to use. Our team here at Cyclehoop can work with you to ensure your brand is represented in its best form.
Most recently, we deployed it to help launch a new bike-sharing scheme by Ofo, with a bespoke yellow Car Bike Port and integrated advertising board.
The Car Bike Port is not only an innovative and fun product and advertising tool for clients, it's also something that is designed to bring people together and reduce street clutter.
A great example of this is our 'shared space' scheme in Leonard Circus, London. We worked alongside Hackney Council and VolkerHighways to create an inclusive and aesthetically-pleasing public space where people can come together, complete with free cycle parking.
Find out more here.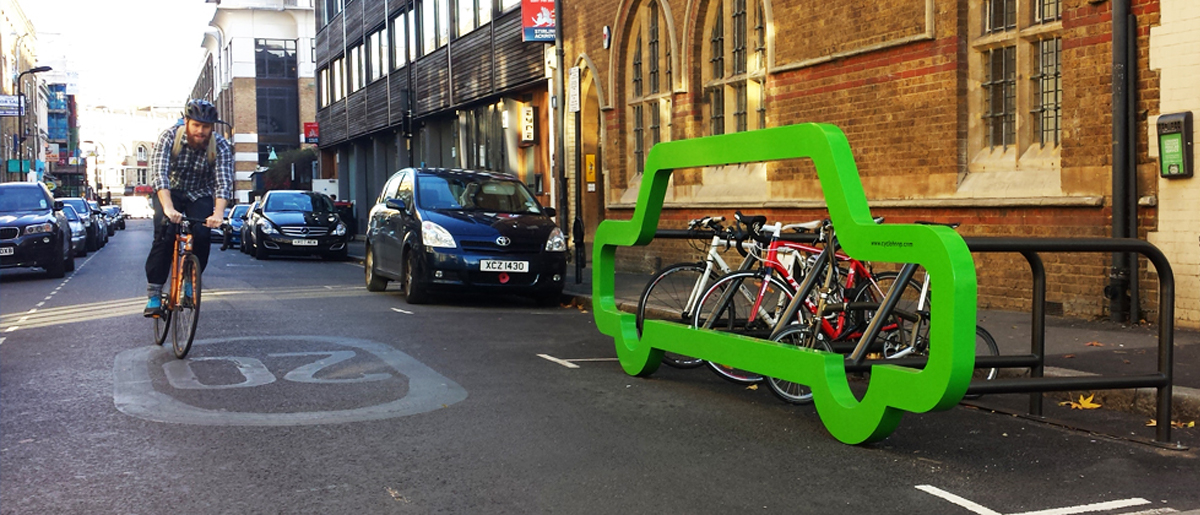 The design of the product is a serious comment on the inefficiency of car travel – and parking – as opposed to cycling. It has been deployed numerous times for short periods to test the level of demand for cycle parking in an area, often leading to long-term cycle parking provision.
Design features:
Eye-catching design conveys serious message and creates conversation
Robust aluminum body and mild steel cycle racks
Replaces a single car parking space with space for 10 bikes
Can be powdercoated in various RAL colours
Can be supplied with integrated bicycle pump
Free-standing or bolted to the ground
Includes reflective and contrasting elements for better visibility
Simple to assemble and disassemble for easy transport
Optional advertising board