In 2017 our team of designers created The Bike Port: A product designed to catch the eye of the beholder and send out a clear, unambiguous message of the importance of space for cyclists, and safe storage of their bikes. It was designed to fit within one car parking space and offers provision for up to eight bikes.
The Bike Port has become an increasingly popular product, which has been used for both permanent and temporary installation.
It has popped up at a plethora of events already, including Hackney Cycling Conference, the launch of the bike-sharing scheme, Ofo and made its full international debut at Velo-City in the Netherlands last summer.  You will also be able to catch one at this year's Tweed Run, where it will be providing the smartly-dressed riders with free cycle parking. We're always excited to be involved in events like these, but we believe this product offers more than cycle parking; it is a thought-provoking symbol that offers a nod towards the possibilities of active travel in big cities like London if the motivation – and investment – is there.
As a result, we see an opportunity for The Bike Port to be used as a barometer of the number of cyclists – and in particular – demand for cycle parking in an area over short periods. If the units are popular and regularly used, they move on to the next designated area and long-term, root-fixed cycle parking is put in its place. This approach is something Hackney Council are trialling with our Car Bike Port, with three units currently dotted across the borough to test demand.
It was fitting then that one of our Bike Ports took up residence at an event co-hosted by Hackney Council: Hackney Cycling Conference, in 2017. The theme was 'Cycling as a catalyst for healthy neighbourhoods'. This conference was a chance for those in decision-making positions to discuss the role of cycling in creating healthier neighbourhoods.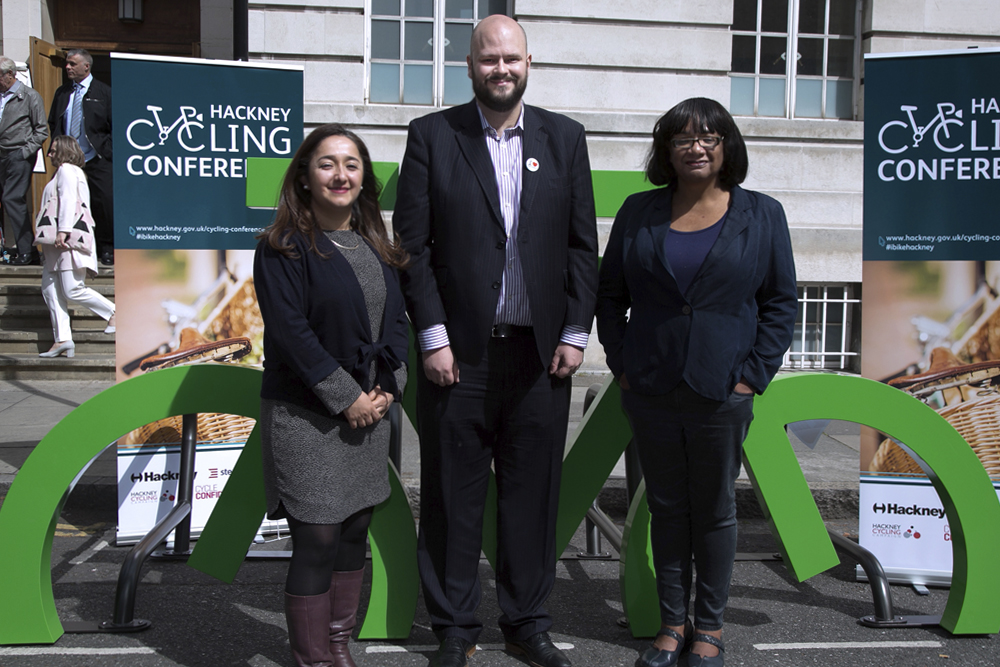 Photo Credit: Gary Manhine
Delegates at the event had the chance to use the product and the feedback was very positive. The Bike Port will grace the event again this year, taking pride of place outside the venue to provide temporary cycle parking.
What you can do today:
If you need secure cycle parking near you, talk to your councils about the possibility of testing local demand with the Bike Port. Starting the conversation is the first step…
Design features:
Designed to gauge localised demand for cycle parking
Provides parking for 8 bikes in one car space
Robust aluminium body and mild steel racks
Easy to transport and simple to assemble
Can be free-standing or bolted to ground
Unique design signifying cycle parking
Custom branding and colours available