The rise in popularity of urban cycling has been keenly felt in cities throughout the UK. Our historic cities are being modified and optimised to accommodate the growing numbers of cyclists as we see an increasing provision of cycle-friendly initiatives and infrastructure that aid safe travel by bicycle.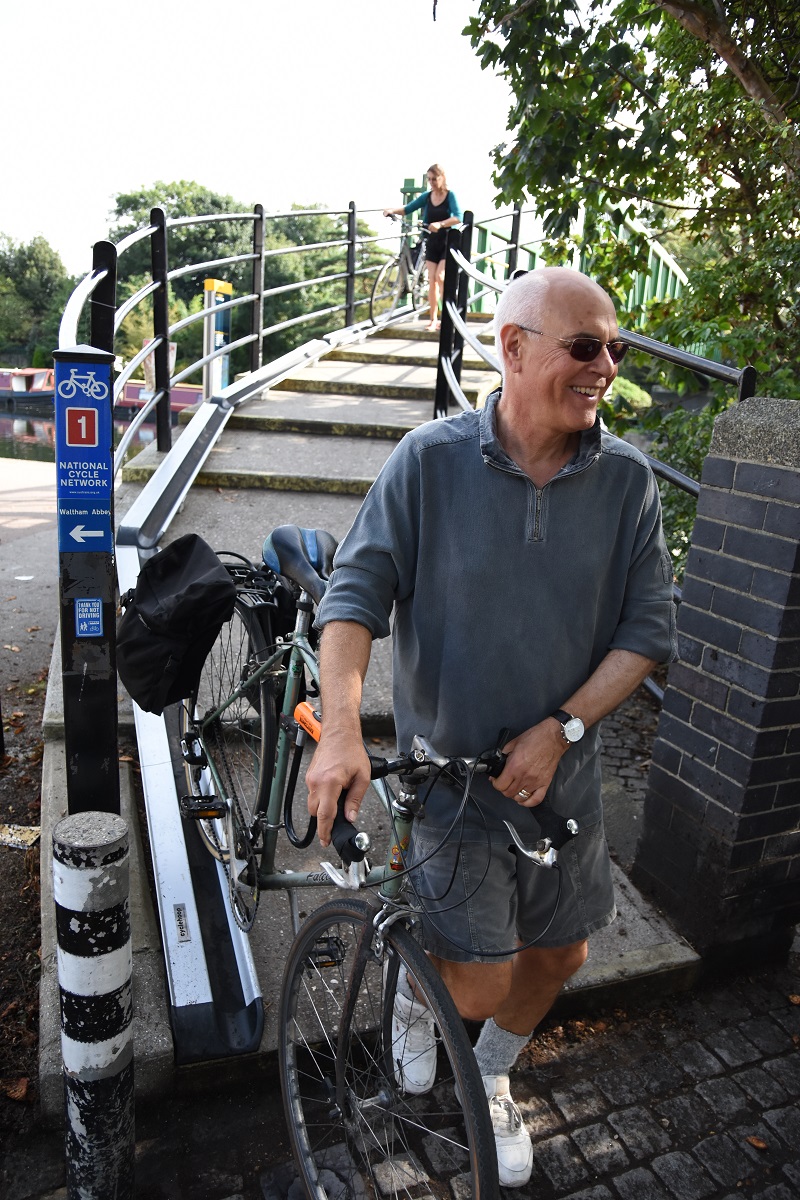 However, the challenge of stairs is an ever-present concern for many cyclists where ramps are not easily retrofitted into areas that have organically expanded over hundreds of years. Those who have good upper arm strength or a light frame may carry bikes up multi-levels. Not everyone has such an easy job negotiating stairs however, particularly if you own a heavier bicycle with panniers or luggage.
"I think it's absolutely brilliant as it's enabled us to get our bikes up and down really easily…I usually struggle with my bike because it's very heavy" 
– Hackney resident Lynne tried the ramp out with her husband while out cycling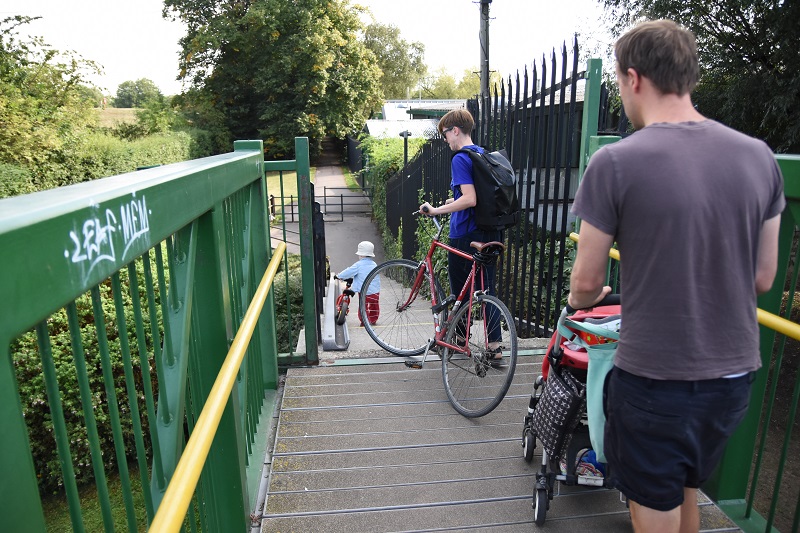 So easy, a child could do it! A local family tries out the new ramp
So then, step forward Cyclehoop's latest offering, the Bike Wheeling Ramp which has just been launched to the welcoming residents of East London! Long established pioneers Hackney partnered with Waltham Forest to procure the new Bike Wheeling Ramp, which is the first of this improved design from Cyclehoop.
The ramps installation on the bridge across the River Lea at the bottom of Spring Hill at Springfield Park, sits exactly on the Hackney-Waltham Forest border and has been specially designed to improve bicycle access when travelling along multi-level routes. The bridge – which has two sets of stairs at either end joining the bank – now benefits from a ramp which enables cyclists to gently wheel their bike up or down without having to carry it or forcefully bump it along the stairs.
The custom aluminium profile is specifically constructed to fit all types of bicycle wheels and unlike competitors who use steel channels, the rounded edges and moulded plastic ends on the ramp make it safer for all users of the staircase. It features durable grip tape in the channel which prevents the wheel from slipping down the ramp in wet or icy conditions.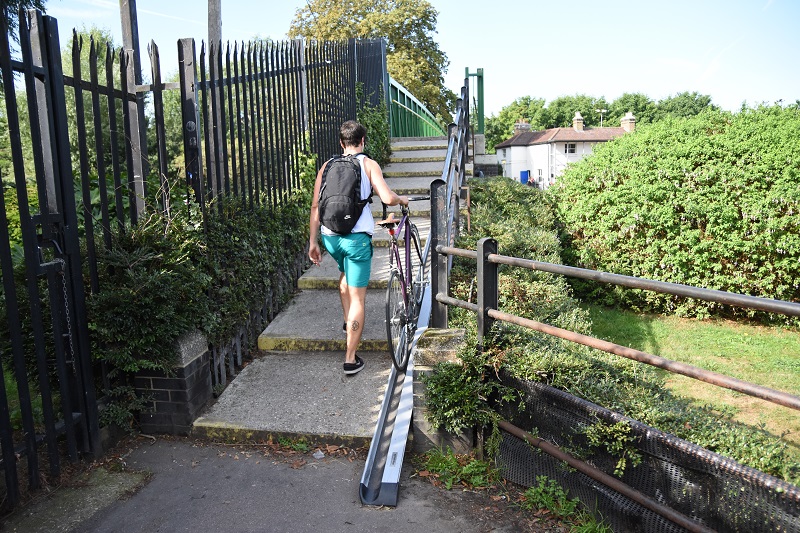 The installation of the first ramp coincides with EU Mobility Week
The real ingenuity of this ramp is in its modular design which comprises of floor fixing brackets that adjust to different angles of slope; flexible angle adjustment allows installation into any pre-existing environment which is a big bonus when retrofitting into cities with historical architecture. These are individually secured to steps to ensure secure installation which does not slip or move while in use. This ramp also includes flip-up functionality allowing for easy cleaning underneath and preventing trapped rubbish or leaf litter building up. The length of the ramp can be ordered in made-to-measure sizes to ensure a truly bespoke solution.
This product has won the much coveted 'iF Product Design Award' and the 'Reddot Design Award'.
Cyclehoop MD and founder Anthony Lau explains:
"We are delighted to work with Hackney and Waltham Forest council in launching this new product. On one side of the bridge, we were able to install the ramp to follow the curved staircase which would otherwise not be possible with traditional steel channels. The sections could be cut and fitted on site without requiring custom fabrication in the workshop, making it very easy to install.The ramp was an immediate hit and it was great to see it being well used. I saw tourists pushing heavy Santander bikes up the ramp as well as bicycles laden with panniers or mothers riding their bike with children on the child seats!".
Kevin Burke, former Senior Transport Planner for both Waltham Forest and Hackney who originally worked on the procurement of the ramp visited the new installation and said:
"As former project manager for the Wetlands to Wetlands route I am delighted to work with award-winning Cyclehoop on this initiative. This innovative wheel ramp will enable cyclists to access the beautiful surroundings of the Lea Valley Regional Park without lifting heavy bicycles up steep steps and help improve connections for visitors to London's exciting new Wetlands Centres at Woodberry Downs and Walthamstow."

"The greenway marks the start of a 3km route that will connect the recently opened Woodberry Wetlands centre with the soon-to-be-open Walthamstow Wetlands centre. The wheel ramp will complement two recently completed public realm schemes at Newton Close and Clapton Common. The initial phase of the scheme was part funded by Hackney Council and the Mayor of London's Big Green Fund."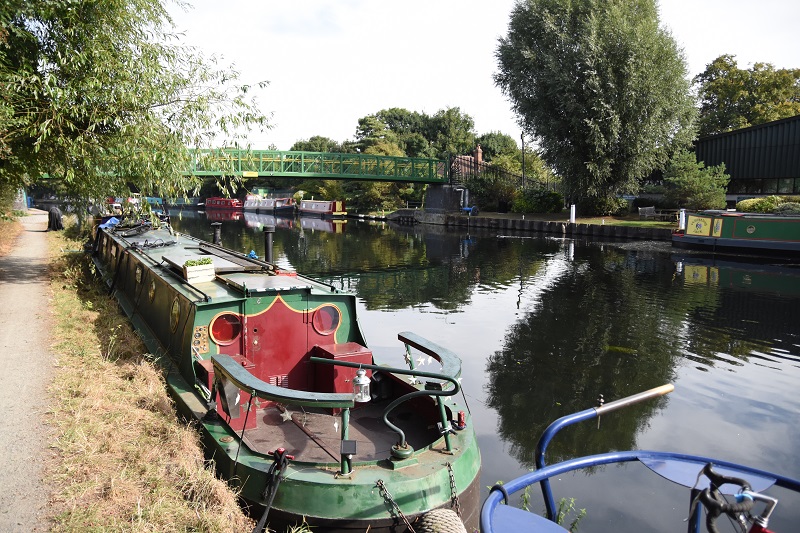 The bridge which now homes the new Bike Wheeling Ramp in the picturesque Springfield Park