Our Bikehangar Rentals scheme has been in operation since 2013. Along the way we've looked to make the lives of the users of the units as simple and seamless as possible, with product security updates, user advice and guidance, and crucially, the installation of scores more across the country.
We know that fear of the roads – and of bike thieves – is a huge barrier to people cycling, so our aim is to do our bit to eliminate some of this fear. We partner with specialist bike insurer, Bikmo, to offer our loyal Bikehangar users a 10% discount on cycle insurance cover. Even if you're not yet a customer, you can get a 5%* discount with Bikmo, using the discount code HOOP5.
Insurance policy small print can often be confusing and, let's be honest, infuriating if you discover something last minute that compromises your claim. Ourselves and Bikmo have endeavoured to make things as simple as possible for you. We are the first cycle parking company to offer 24/7 insurance cover for your bike in our Bikehangars thanks to Bikmo. As long as your Bikehangar is within 500m of your home and is locked in accordance with these guidelines, we can offer you total peace of mind. We promise there are no tricks, and no misdirection involved.
We met up with a Southwark Bikehangar user, Rosie, one sunny afternoon. She talked us through some of her views on cycling in London and what the Bikehangar space – and insurance cover – means to her.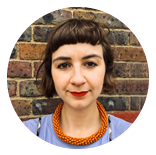 Q: Hi Rosie. Thanks for meeting with us today. Could you start by telling us the biggest challenges you face as a cyclist in London.
A: "I get abuse relatively frequently. Not so frequently that it puts me off but enough that it affects me. That is just something that comes with being a woman and a cyclist."
Q: If you were Mayor, what would be the first three things you would do to improve London for cyclists?
A: "I like what Sadiq's doing in pedestrianised areas. He could maybe do the same for cyclists by making busy roads more cycle friendly and make quiet roads pedestrian and cycles only. I know he's focused on reducing diesel vehicles in the city and I think HGVs need to be banned from zones 1 and 2.
Q: What were the key reasons you chose to insure your bike with Bikmo?
A: "I read that it is the only one that covers the hangars as part of your home.'
Q: Where did you hear about it and was it communicated well?
A: "Through Cyclehoop. Yes, it was communicated well."
Q: Is there anything else you'd like on offer as a Bikehangar user?
A: "More of them. I've applied for a new one with the council but if there could be some way of speeding it up that it would be great."
Q: Do you feel more confident now that your bike is secured 24/7?
A: "Definitely. Occasionally we'd store them in our flat or outside and bits got stolen so now I know it's secure, it's great."
You may have a bike that is worth very little, in which case, insurance may not be for you. However, if your bike is value, either sentimental or financial, then insurance is something you should carefully consider. Bikmo consistently receive extremely complimentary reviews and have some of the best policy benefits in the industry. Find out more about insuring with Bikmo and Cyclehoop.
Securing a policy couldn't be easier. Simply click on this link for a 16 second quote and enter the code 'HOOP5' for a 5%* discount. Cyclehoop Rentals customers can access a 10% discount – check your welcome email for details.
*Minimum premium £3.73/mo and policy wording applies.