Here at Cyclehoop, we love to design products that activate cycling in the community by unlocking existing and redundant spaces to create interesting and accessible cycle parking.
Our Bikehangars that can be seen dotted around London are just one example of this. What makes designing for the community even better are the variety of interesting and amazing collaborations that come directly from the community itself.
This summer we have had the pleasure of working alongside Lambeth Council and Brixton design duo Eley Kishimoto to bring a splash of colour to two of our Bikehangars.
As part of a strategy to deter graffiti, these two special-edition Bikehangars, which reside on Railton Road have been commissioned by Lambeth Council to feature the iconic Connect Brixton pattern, designed by local duo Eley Kishimoto. This bespoke pattern represents the multicultural spirit of Brixton.
Our MD Anthony Lau popped over to introduce the new design to Cllr Jim Dickon, Cllr Jennifer Braithwaite, Suzy Harrison of Lambeth Council and residents of the Bikehangars.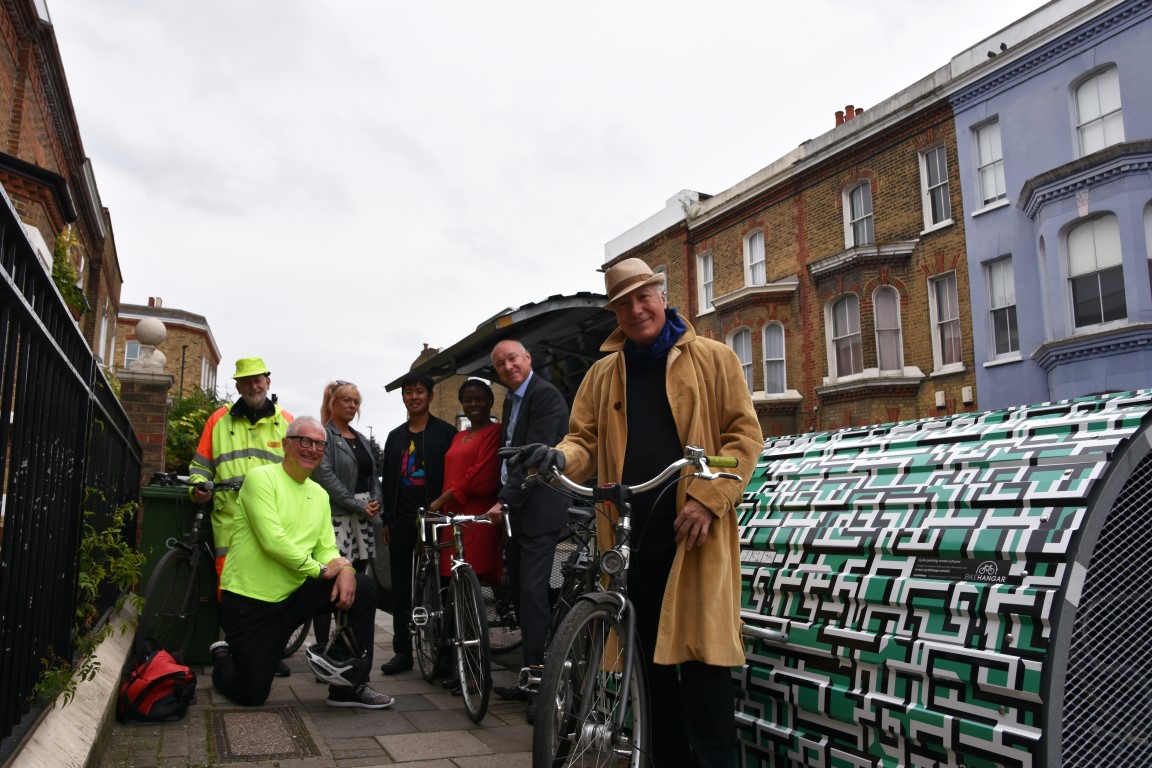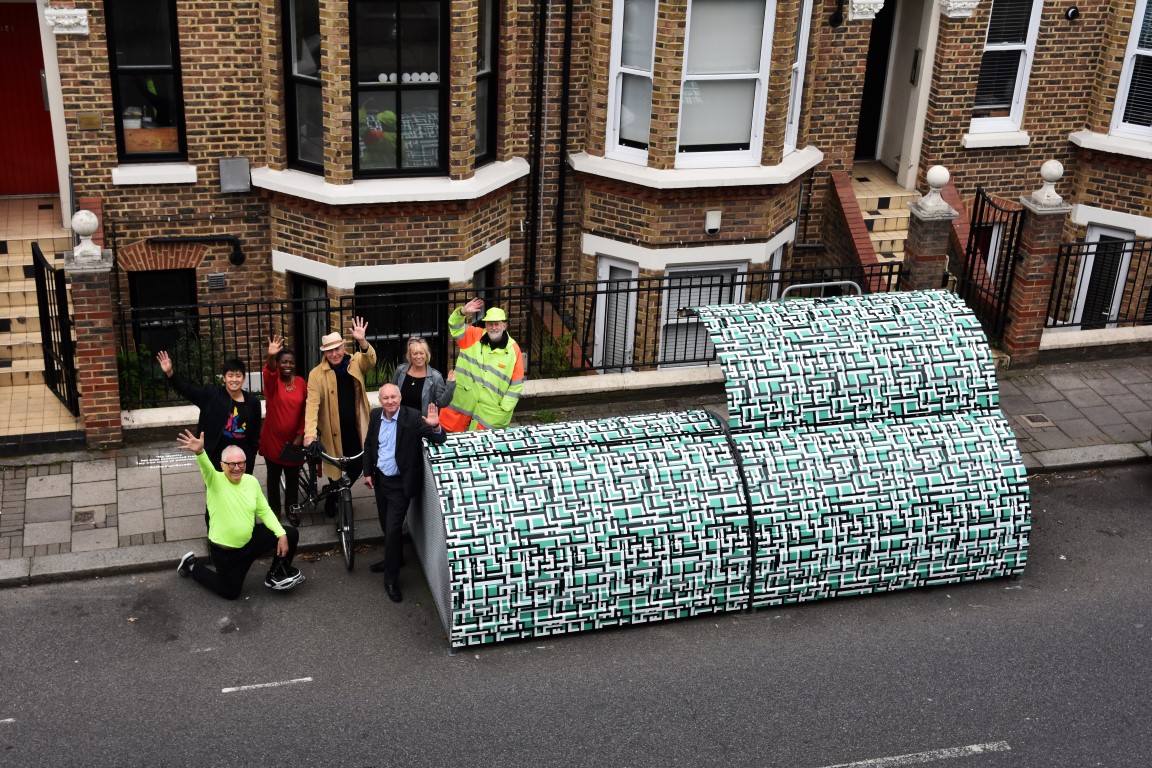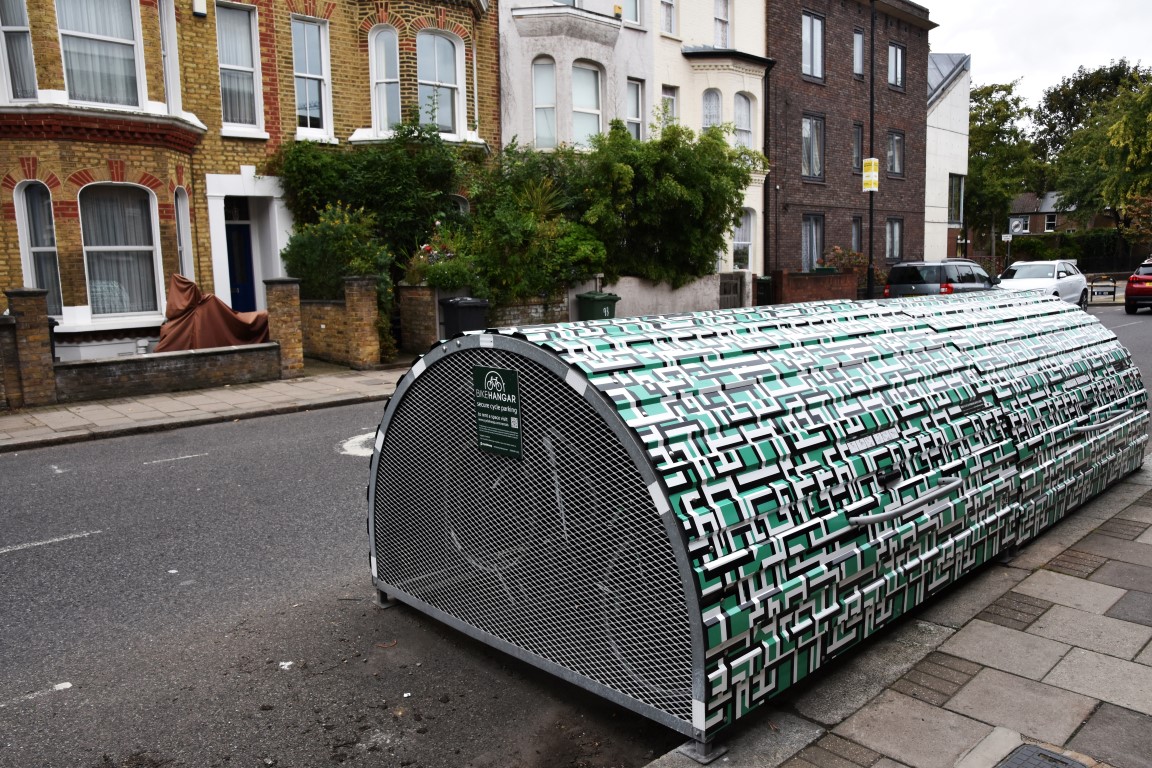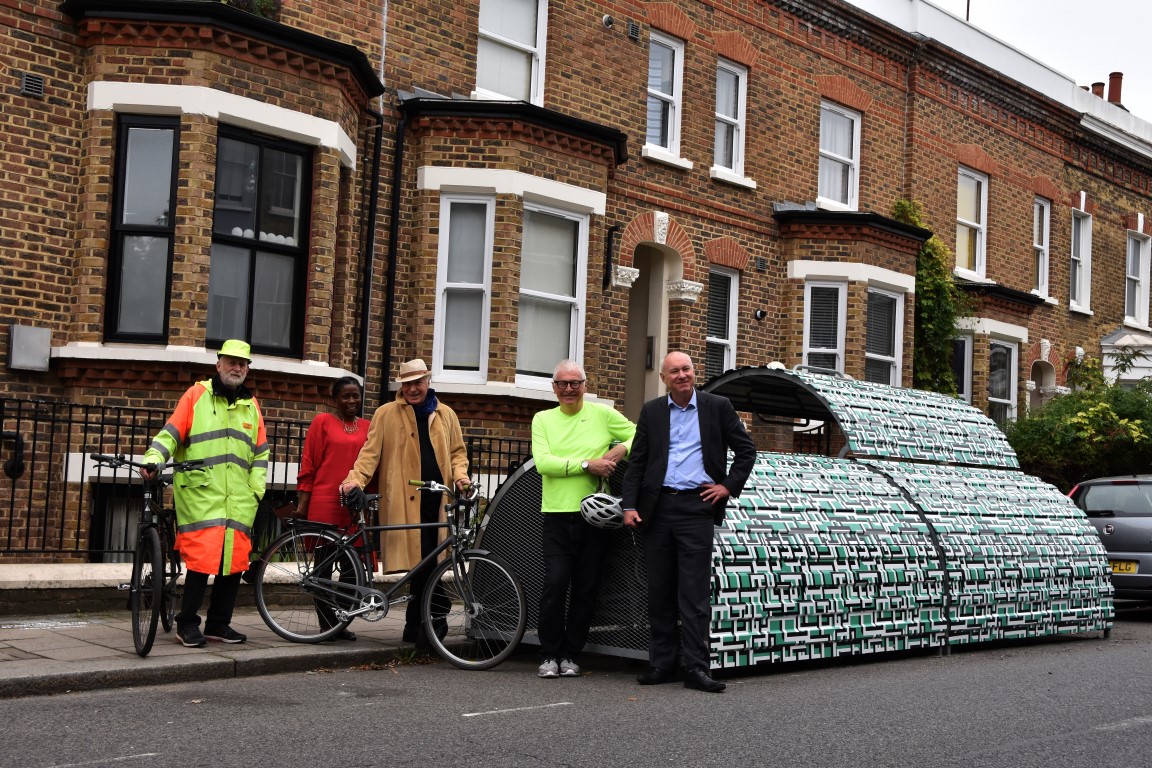 Eley Kishimito are a British fashion design duo who formed in 1992. Their work is mainly within womenswear fashion and accessories; however, their patterns have branched into public spaces. In 2016, they created a floor installation in front of Brixton Underground in collaboration with TFL as part of Brixton Design Week.
Lambeth Council was the first to order our Bikehangars, the first 12 of which were installed on their streets in February 2013. Our award-winning design is an effective way to protect bikes from theft and tough weather conditions where outdoor storage space is limited. This made the Bikehangar an ideal solution for Lambeth Council to offer its residents, most of whom live in small flats where space is at a premium
The success of the scheme over the years has resulted in a total of 215 Bikehangars  installed across the borough providing 1290 secure cycle parking spaces. This number reinforces the councils' commitment to becoming one of the most cycle friendly boroughs in London.
Suzy Harrison of Lambeth Council says;
'Lambeth Bikehangars have become an essential addition to the cycle infrastructure in the borough providing a home-end storage solution. All the current bikehangars are used to capacity. Unfortunately, due to their on-street positioning they can sometimes be a target of graffiti. Collaborating with Eley Kishimoto to wrap the bikehangar on Railton Road with the Brixton design will help to deter this and keep the bikehangars looking vibrant.'
Henry Pim, a local resident says;
'I was delighted when the Bikehangar was installed five years ago. I had one bike stolen when chained to a post outside our house, so had to keep the bike in our narrow hallway, which was really awkward and probably dangerous.  I am happy to report that since the Bikehangar arrived that my bike has not been stolen or damaged and my visitors have sustained no more upper thigh injuries from hallway collisions with my handlebars.

I am a sculptor and think that the geometric pattern introduces a lively upbeat feel to the street. It also flows well over the corrugated surface.I think it looks as though somebody cares for the way the street looks and hopefully this will deter vandalism.'
If you would like more information on the Bikehangar scheme, visit www.cyclehoop.rentals or contact the Cyclehoop rentals team at rentals@cyclehoop.com