The rise in popularity of urban cycling has been keenly felt in cities throughout the UK. Those who commute on two wheels enjoy the health benefits as well as the freedom from being stuck in traffic jams with other motorised vehicles. Our historic cities are being modified and optimised to accommodate the growing numbers of cyclists as we see an increasing provision of cycle friendly initiatives and infrastructure that aid safe travel by bicycle.
Cycle superhighways, segregated cycle lanes, public cycle parking and pump and repair stands are all on the increase with an aim to solving the current problems faced by cyclists and encouraging more, new and different people to travel by bicycle. However the challenge of stairs is an ever-present concern for many cyclists where ramps are not easily retrofitted. Those who have good upper arm strength or a light bicycle may carry it up flights of stairs. However not everyone has such an easy job negotiating staircases, particularly those who are less physically able especially or own a heavier bicycle with panniers or luggage.
Cyclehoop have been considering this challenge and working on a solution to make our cities more accessible by bicycle. So then, step forward Cyclehoop's latest offering, the Deluxe Bike Ramp, designed so that bike riders can conveniently and safely move their bike when they come across stairs. This is a modular extruded aluminium product that breaks away from the conventional fabricated steel ramps that can be found on the market. The aluminium alloy is used to create a durable corrosion-resistant slope while Ceramic non-slip sheets are used to improve contact and stability of bicycle wheels. There are grooves attached to the two sides of the slope to prevent the ceramic non-slip sheet from falling off.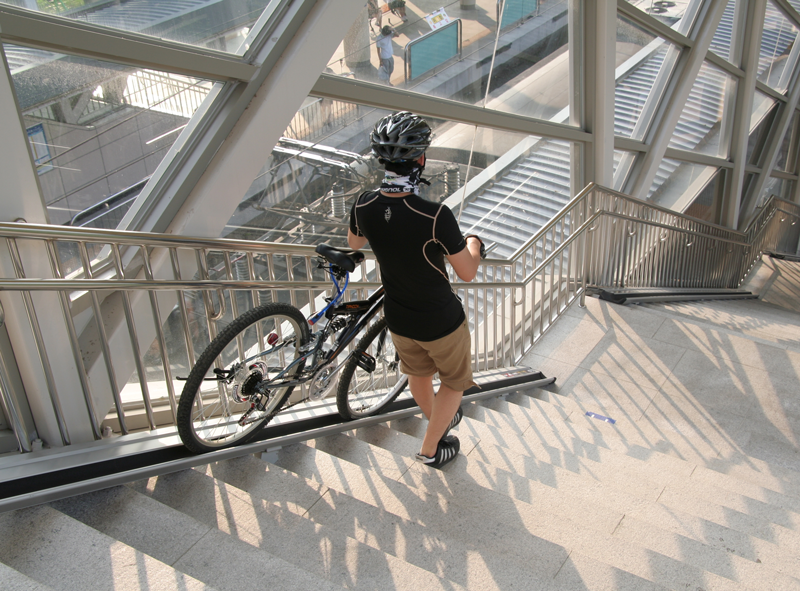 The ingenuity of the Deluxe Bike Ramp is in its modular design which comprises of floor fixing brackets that adjust to different angles of slope; flexible angle adjustment allows installation into any pre-existing environment which is a big bonus when retrofitting in to cities with historical architecture. These are individually secured to steps to ensure secure installation which does not slip or move while in use. The length of the Deluxe Bike Ramp can be ordered in made-to-measure sizes to ensure a truly bespoke solution. Installation of the Deluxe Bike Ramp is also fast and hassle-free as the prefabricated structure requires no welding or grinding, a big advantage when compared with other more traditional ramps.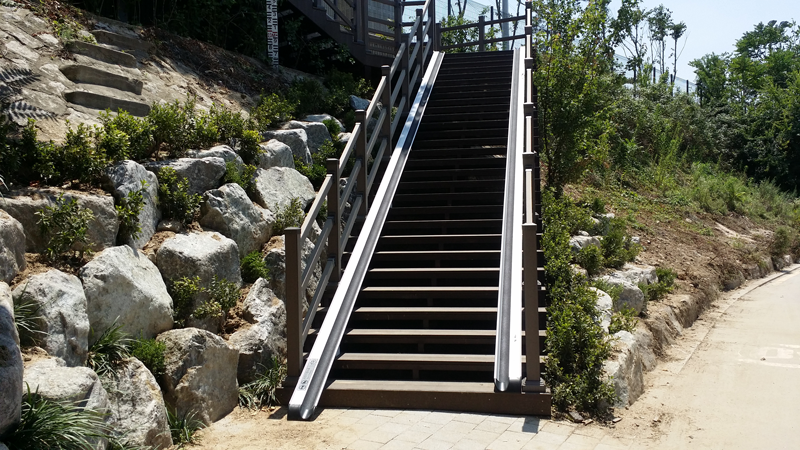 It is also a very safe option as the curved profile of the ramp minimises elements that may cause injury to the human body. Maintenance has also been considered in the design of this ramp as the channel can be opened and closed with the rotating bracket, making drain cleaning, maintenance and repair easy. The block-type prefabricated structure means parts can easily be changed in case of damage which has a knock-on effect of decreasing maintenance and repair costs. It is even possible to attach advertisements or branding to the ramp, for those wanting to get their message out in an innovative way!
Designed by our partners in Korea, this product has won the much coveted iF Product Design Award and the Reddot Design Award for this highly accessible ramp solution.
Find out more about the Deluxe Bike Ramp here.