Following the successful installation of our popular 380 space cycle hub at Paddington last year, an identical version is now open and ready for use along with a brand new public bike pump and repair stand. As you can see from the floods of bicycles at the original hub, the station was very much in need.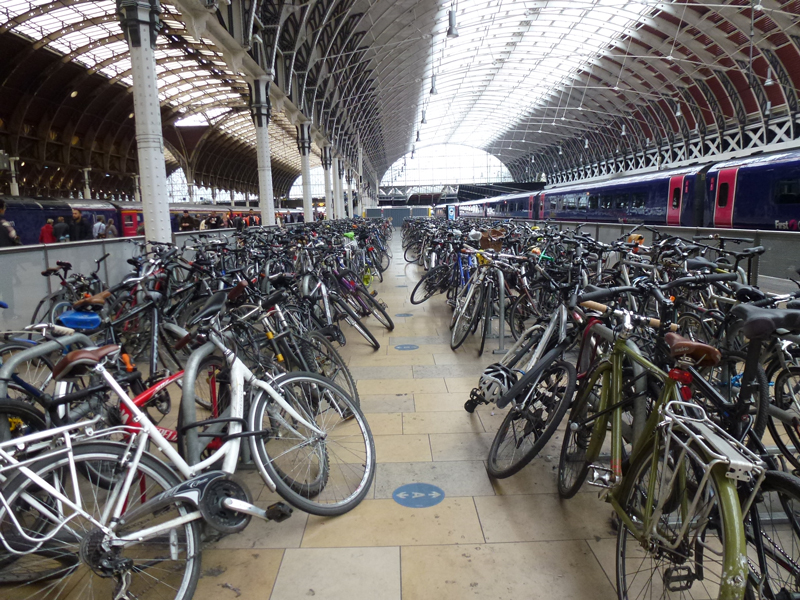 Network rail approached Cyclehoop to find a cycle parking solution for platform 10 and 11, therefore it made sense to replicate the original design with its aesthetically pleasing guardrail and barriers, keeping in line with the stations' traditional interior. It is designed in such a way so that cyclists cannot  lock their bike to the handrail or kick the cycle stands.The only difference between the hubs is that the racks are for season ticket holders only. Cycles parked in there that are not registered will be charged a release fee.
As Paddington station is a listed building space efficient two tier cycle parking could not be installed. The new design had to be approved by Westminster Council as well as Network Rail. Furthermore, installation had to be undertaken outside normal hours and within four days.
The new cycle hub features an aesthetically pleasing guardrail and barriers within line with the stations traditional interior and designed in such a way that cyclists could not lock their bike to the handrail or kick the stands. To prevent abandoned bicycles and ensure cyclists can get to their destination a bike repair stand and public bike pump were installed.
The response from National Rail has been overwhelmingly positive, "We have been a victim of our own success here, the racks were so popular that we were delighted to replicate them on the opposite platform. As the station is a grade 1 listed building there was many restrictions on what we could do. Cyclehoop listened intently to our problems and presented us with various creative designs. The installation team were very professional. It has been a pleasure working with Cyclehoop and we would highly recommend them." Nick Hartnell, Station Manager, Paddington Station.
Cyclehoop is also involved in a number of other high profile cycle hubs at train stations.  Please contact us for more info.