End to end secure cycle parking with electronic access
Whilst the need for secure cycle parking near your home is widely recognised, destination cycle parking is often limited to a few Sheffield stands, out in the elements in a dimly lit area. Hardly inspiring for someone looking to leave their trusty steed / means of employment / pride and joy for a few hours.
With local authorities looking to encourage walking and wheeling to city centres and high streets, public access to secure, weatherproof cycle parking is hugely effective in supporting uptake. But how to offer and manage such a service, where every location has its own individual quirks and issues?
Introducing Trips, a short-term, secure cycle parking service, accessible through the Cyclehoop smartphone app.
This new service can be applied to any securable unit – from an individual locker to a six space Bikehangar or a secure cycle hub – and allows the user to find, book and monitor their reservation in app.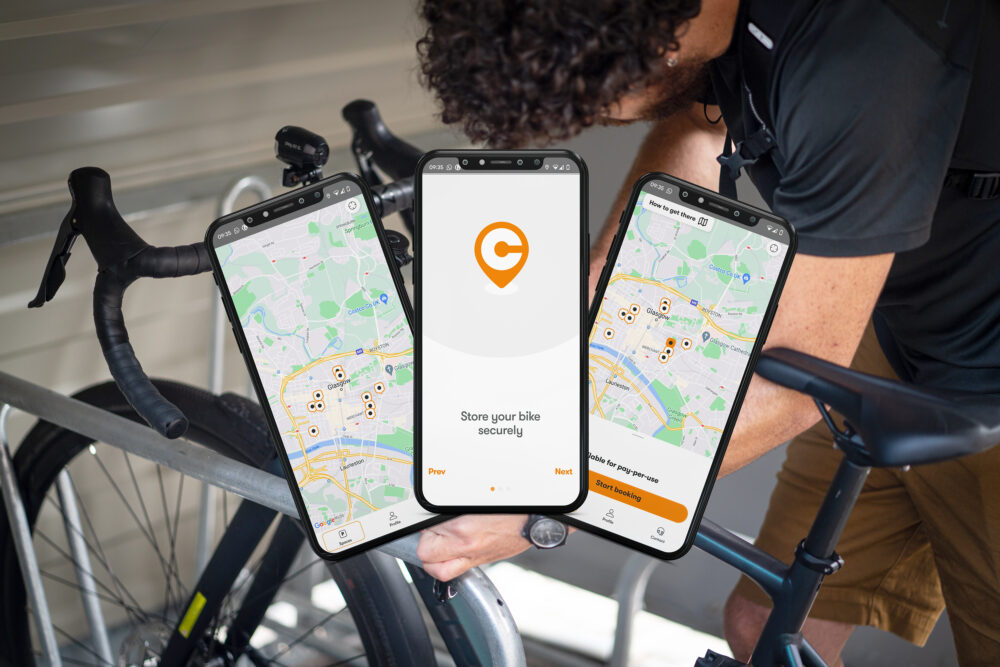 How it works
The app is available to download for free from Google Play and the App Store. Customers set up their profile and use the map feature to find, select and navigate to their desired unit. On arrival, users can then start a booking and unlock the unit directly from their smartphone.
The app momentarily disengages the locking mechanism using Bluetooth connectivity, enabling the user to turn the latch and open the unit. They can then secure their bike in their allocated space (shown in the app), close and lock the unit.
Users can also monitor the cost of their booking within the app, with a countdown timer showing when a booking will move into the next price tier.
Pricing can be set according to the requirements of a client, including limited free access.
When retrieving their bike, users simply repeat the opening process using the app, unlock and remove their bike and end the booking. Their account is then charged accordingly.
Users can add credit to their account and check previous bookings, all through the app.
Glasgow city centre – a case study
Earlier this year, Cyclehoop won a tender to bring a secure, short term cycle parking solution to Glasgow city centre. Funded by the Sustrans 'Places for Everyone' initiative, it forms part of Glasgow City Council's Avenues Project.
The project identified twenty locations around the city, with predicted high demand – near offices, shopping areas and social destinations. An initial phase of 12 Bikehangars was installed ahead of the UCI World Championships. With the event celebrating all things cycling, the UCI sponsored the first 12 units and they were decorated with the iconic rainbow jersey stripes.
A second phase was installed in September bringing the full roster to 20 units (19 Bikehangars and one Cargo Bikehangar).
Following a one-month trial, the service launched on September 28th, and has seen a healthy uptake with an average of 50 customers downloading the app each week.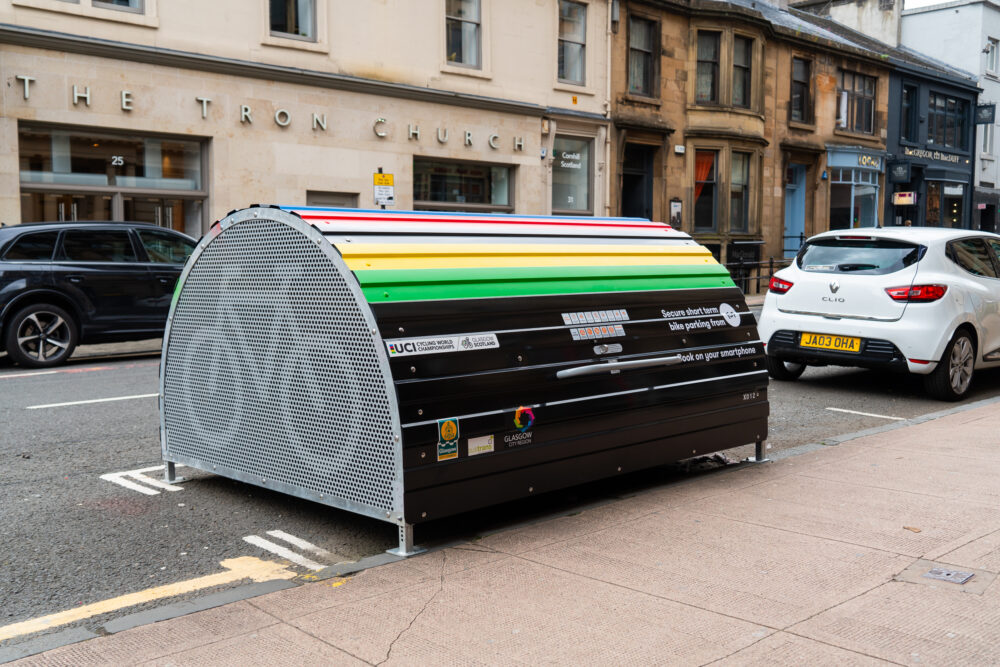 The benefits of going digital
Whilst Cyclehoop Trips offers destination cycle parking through the app, the technology can also be applied to residential cycle parking. 'Cyclehoop Home' is the second phase of the project which will integrate residential cycle parking subscription management, for a complete end-to-end cycle parking solution. This will offer a range of benefits for local authorities, housing associations and facilities managers:
No key management – holding, distributing and processing key returns takes a large amount of time and space. No keys, no key management required!
Remote access management – the ability to immediately grant and revoke access through the application management console streamlines the process and removes the impact of lost keys.
Flexible terms – many Cyclehoop Rentals customers request shorter term contracts to match the duration of their stay at an address. Cyclehoop Home makes this possible.
Self-service account management – automating some of the service will allow customers to manage their own accounts. This will require less support from a customer service team.
Collecting usage data – understanding cyclist's behavior is essential when planning new infrastructure. This app allows us to see popular destinations, the times that people are accessing units and once Trips and Home are integrated, will be able to show popular routes. This information would be invaluable to any council assessing future needs.
What are the possibilities?
Encouraging more people to cycle is essential to improving the country's health, reducing the strain on existing infrastructure and reducing reliance on cars. By offering secure parking facilities at both ends of the cycle journey, a great many more people can choose cycling as their everyday mobility choice, safe in the knowledge that their bike will be there when they return.
Interested in setting up secure app-enabled cycle parking for your organisation? Contact our friendly business development team: