Here at Cyclehoop we are proactive, not reactive. We continually work to come up with innovative solutions to problems. This is why we are so pleased that members of our Bikehangar scheme are equally as proactive as we are and continually strive to support the cycling community.
In 2014, the London Borough of Bromley celebrated the long-awaited installation of its very first Bikehangar on Tudor Road, Anerley. Not just any old Bikehangar, this one has an extraordinary story and is an inspiration to anyone who wants safe on-street cycle parking on their street.
Alex Baines-Buffery, keen cyclist and owner of cycling holiday business Wine Rides first made the request for a Bikehangar on Tudor Road after the lack of storage for his cargo bike started to become troublesome for him and his neighbours. At the time, there were no Bikehangars in the borough of Bromley. However, Baines-Buffery knew about Cyclehoop and our successful Bikehangar scheme in other London boroughs such as Lambeth, and made sure that was soon to change.
He gathered support from his local neighbours through sending a letter of proposal for the Bikehangar listing out the benefits of what safe secure on street cycle parking can have for the street. He clearly outlined the benefits to non-cyclists, making the case for the lack of clutter on the streets or in communal parts of the buildings. In the letter he identified himself as a key point of contact, asking them to email him their details so he could register their interest on the Cyclehoop Suggest a Location page (he also encouraged them to register their interest themselves). As well as this, he encouraged residents who had any further queries or objections to contact him
"I wrote a letter to my neighbours and stuffed it through all the doors on my road. As a result, I got one email from someone who didn't want it and about eight from people who were supportive. In this letter, I think it is important to introduce yourself and set out what will be lost: half a parking space. If you don't do that, people won't trust your intentions. You can then explain why it will be a valuable addition to the road. It is also important to state that it isn't just the cyclists who benefit: the people they share properties with will also be better off." – Alex Baines-Buffery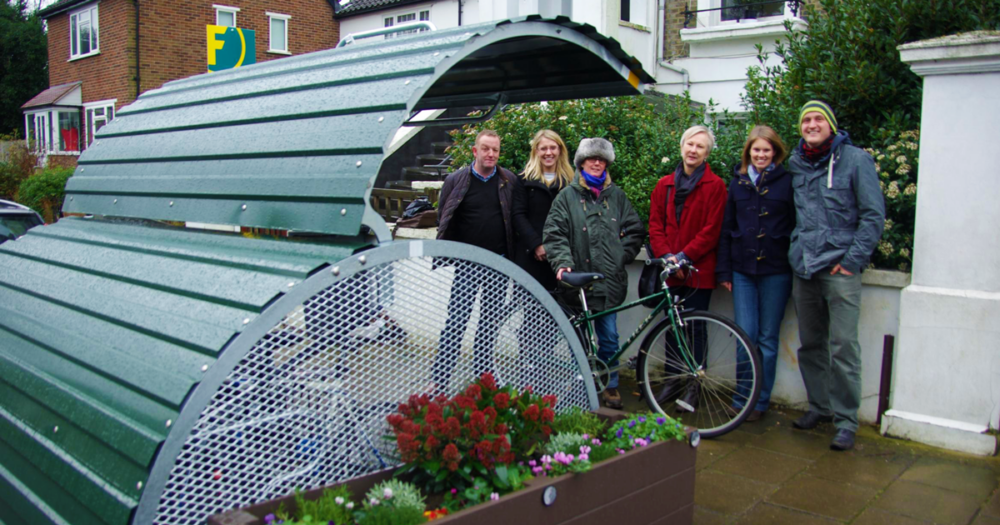 Once he had gathered support he then got in touch with his local councillor, asking for a meeting to pitch the idea of a Bikehangar scheme. Again, he had to make the case for the community benefits, how it can improve the area and what visible difference it would make to the area. Once the councillor was on board, Alex had secured a voice within the council to represent him at a higher level and speak to the right people who could make decisions.
This developed into a full consultation between the council and the local neighbourhood, where they wrote to everyone on the street asking their opinion on the Bikehangar. It was at this point that Alex got in touch with his neighbours again via social media and visited them again encouraging them to respond, reiterating the case for secure on-street cycle parking.
The result was so overwhelmingly positive that Bromley's first Bikehangar was installed on Tudor Road, Anerley six months later. To mark this occasion and in recognition of the community spirit in Crystal Palace, a competition was run to name the hangar after a local hero. There were numerous nominations including 'Paxton' after Joseph Paxton, the architect who designed the original Crystal Palace. After much deliberation, the chosen name for the hangar was 'McKenzie' after Don McKenzie, a local retired man who "has tirelessly driven community projects in Weston." A further fourteen Bikehangars have been installed in Bromley to date.
"I am really grateful to everyone who has helped make the installation of this cycle storage a reality. It will make life more pleasant for everyone who uses it, and I have already been asked by others how to go about getting one where they live." – Alex Baines-Buffery


I am really grateful to everyone who has helped make the installation of this cycle storage a reality. It will make life more pleasant for everyone who uses it, and I am really grateful to everyone who has helped make the installation of this cycle storage a reality.

Alex Baines-Buffery

Keen cyclist and owner of cycling holiday business Wine Rides