Its fantastic news that 8 new London Boroughs have adopted the fully managed on street Bikehangar scheme, including Ealing, Havering, Barking and Dagenham, Greenwich, Waltham Forest, Camden and Brent.
Notably, the London Borough of Bromley are also celebrating the long awaited installation of its very first Bikehangar on Tudor Road, Anerley. To mark this occasion and in recognition of the community spirit in Crystal Palace, a competition was run to name the hangar after a local hero. There were numerous nominations including 'Paxton' after Joseph Paxton, the architect who designed the original Crystal Palace. After much deliberation, the chosen name for the hangar is 'McKenzie' after Don McKenzie, a local retired man who "has tirelessly driven community projects in Weston Park.
In keeping with the conservation of the area, the hangar is the first ever one to be protected by two planters, maintained by local residents and planted with hardy herbs that can be used in cooking. The planters have proven a big hit as they increase inner city green spaces, providing a micro-habitat for wildlife whilst brightening up the otherwise monotonous concrete Jungle.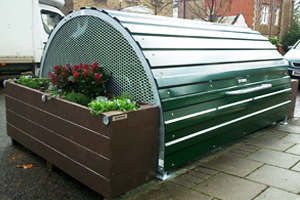 Alex Baines-Buffery, keen cyclist and owner of cycling holiday business Wine Rides, first made the request for the cycle hangar in Tudor Road after dragging his bike noisily up three flights of stairs to store in his flat became troublesome for both himself and his neighbors. After asking round fellow residents of Tudor Road, it became apparent that there were other bike-users who wanted to be able to store their bicycles outside of their homes. Bromley council undertook formal consultation with residents and the response was overwhelmingly positive.
Alex said "I am really grateful to everyone who has helped make installation of this cycle storage a reality. It will make life more pleasant for everyone who uses it, and I have already been asked by others how to go about getting one where they live."
The official launch took place on Saturday 31st January with Councillors Angela Wilkins and Richard Williams in attendance to meet the users, each of them the Crystal Palace Ward for Bromley. Angela Wilkins said "Storing your bike if you live in a flat, particularly upper levels can be a nightmare, enough to put you off cycling. These hangars provide an excellent and secure solution. In time I am sure they will result in fewer cars on our roads and, given the local hills, some fitter, healthier residents!"
Recent studies with members in Lambeth found that 84% of users believe that having Bikehangars on street encourages cycling, "providing safe cycle storage for a reasonable cost."
Contact us today about our Bikehangars.