Our MD Anthony Lau celebrated European Cycling Day in Lithuania this year as a guest of H.E Ambassador Bert van der Lingen and the Dutch Embassy to witness the unveiling of two of our bright and beautiful Car Bike Ports. The cycling festival, which took place in Vilnius on Thursday 14th of April was a huge success and highlighted the importance of the future of cycling for Lithuania.
The two Car Bike Ports – which provide 10 bicycle parking spaces each and reinforce the positive benefits of travelling by bike vs a car- are the first Cyclehoop installation in the country and were ordered by the Dutch Embassy as a gift to the city of Vilnius to celebrate European Cycling Day.
The day started with seminars and presentations about the future of cycling in Lithuania, after which the Ambassador and the Mayor of Vilnius rode their bikes together to the iconic Cathedral Square, where they unveiled the Embassy's present to the city of Vilnius: the fun, orange Car Bike Ports.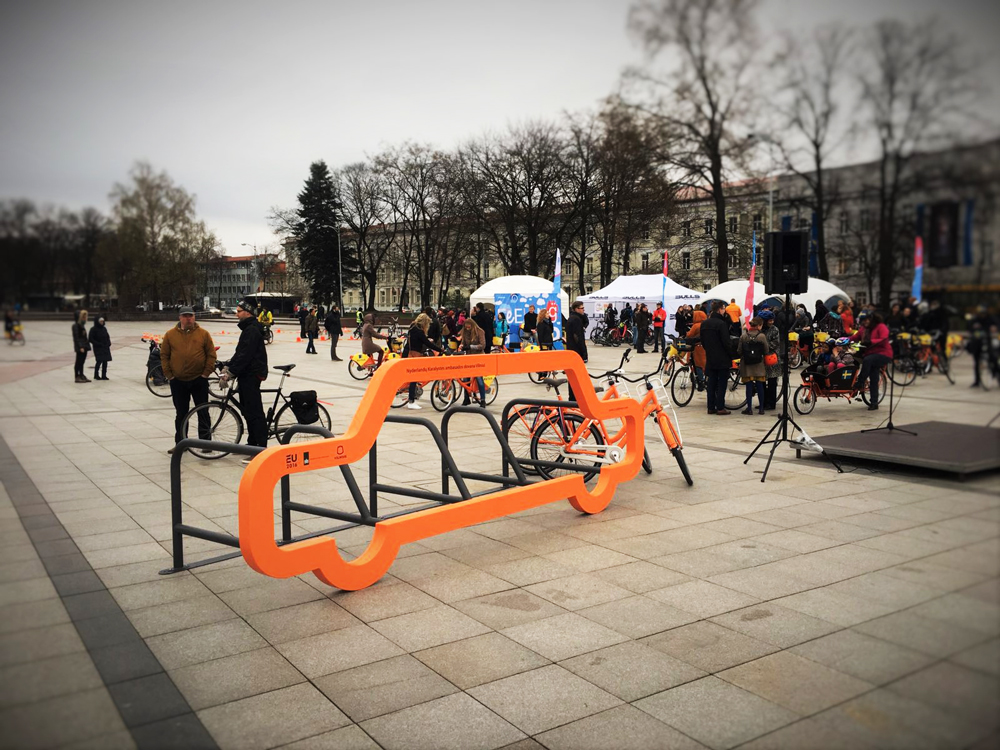 After the unveiling, a number of fun activities such as games for children, workshops on how to maintain your bike, a bicycling orienting game and safety-related giveaways, got the general public fully engaged in the cycling spirit of the day. Later in the evening the festival took a mass-selfie in Cathedral Square to commemorate the successful day.
Anthony also left an additional gift with the people of Lithuania; a classic silver Cyclehoop, which was the first product designed by Lau, who was inspired to create the retrofit cycle parking hoop after his bicycle was stolen from a piece of street furniture back in 2006.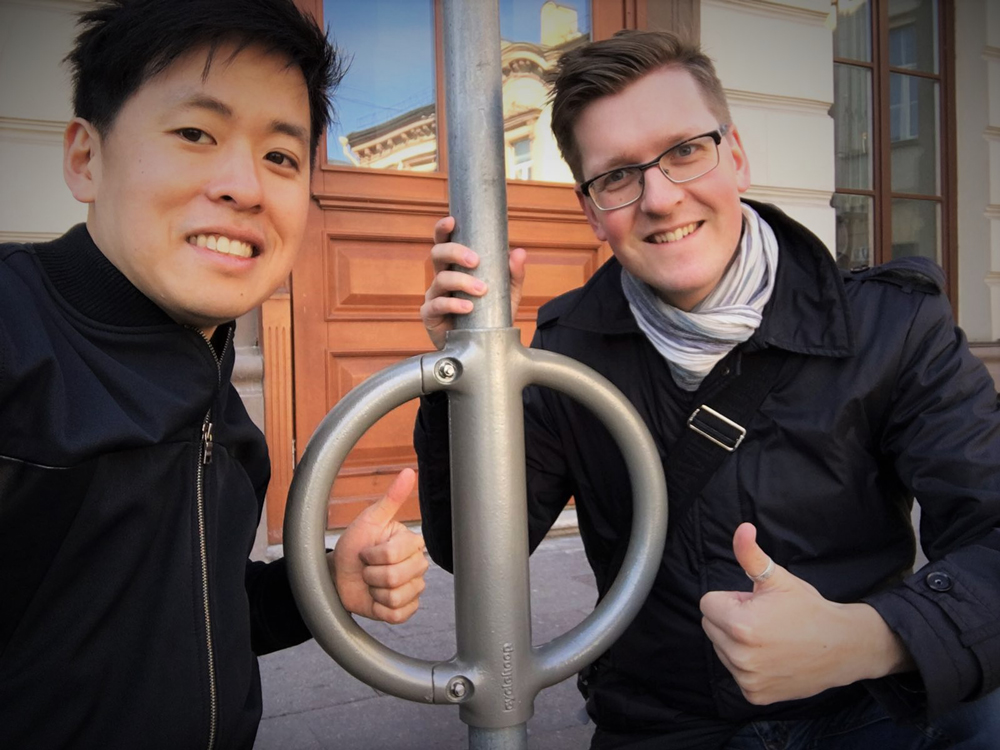 MD Anthony Lau with with H.E Bert Van Lingden
Anthony commented
"The Dutch have a long and proud history of cycling culture and represent an excellent model for the rest of Europe to follow. So we were thrilled that the Dutch embassy chose to give our Car Bike Ports as gifts to the city of Vilnius. It's been a fantastic day full of healthy debate and presentations, a true celebration! I've really enjoyed meeting people who are as passionate about the future of cycling as we are".
H.E Ambassador Bert van der Lingen said
"Cycling is healthy, climate-friendly and efficient. Cycling is for everyone. But most of all, cycling is fun! By organising the Cycling Festival Europe, the Netherlands Embassies want to share this message throughout Europe. With our events and activities we aim to increase the number of Europeans using the bike on an everyday basis, as well as discussing the possibilities to integrate cycling as a mode of transport into sustainable urban mobility."
We can't wait to see the people of Lithuania using the cycle parking!