How to get more Bikehangars on your street
Here is how to influence your council to provide the cycle parking your neighbourhood needs. With more than 50,000 people waiting for Bikehangar spaces across the UK, we want to provide you with the information and tools to help you do your part!
The government's 2020 Gear Change strategy seeks to have half of all journeys in towns and cities cycled or walked by 2030 so we still have a long way to go. It is our mission to promote a more sustainable ratio of car parking spaces to Bikehangar and parklet spaces provided on our streets.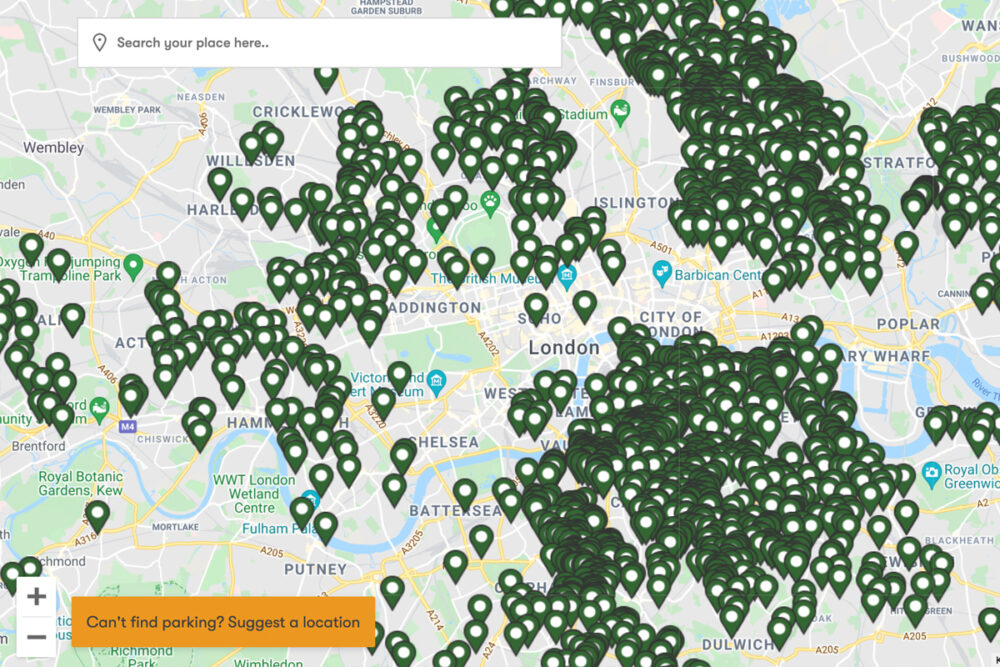 Our Bikehangars, lockers and hubs can be seen dotted across the UK. They can be rented at a price set by the council (often this is subsidised, depending on which local authority you live in). Through our Cycleparking Rentals website, we operate the largest cycle parking network in the UK (and probably the world) and we are delighted it is continuing to grow thanks to everyone's combined efforts! Thank you to all the residents, council members, sustainable mobility lobby groups and our team. Together we are creating a safer, healthier and happier future for our younger generations. A liveable city is a cycle-friendly one!
Follow these three steps
Your local authority needs residents to follow the below three steps; suggest a location, demonstrate demand and write to your local council. This can help influence council decision making and promote the funding of sustainable mobility options to increase the provision of Bikehangars on our streets. And it's working, every year we install more Bikehangars than the year before.
Here are our three top tips showing you how to speed up the process of getting further Bikehangars in your area:
1. Suggest a location
The Suggest a Location form on our Cycle Parking Rentals website is a fundamental tool in speeding up this process. By simply inputting your desired location and stating what type of facility you want, you are providing valuable data that informs us of the local requirement for on-street cycle parking. Most importantly, we provide the results of this information to local authorities to demonstrate demand.
You can suggest a location here.
2. Demonstrate local demand
It is really helpful to demonstrate that your idea has community support. Speak to your neighbours, they may also need accessible cycle parking but have never heard of us! You can ask them to sign a simple form collecting their basic information such as their names and addresses demonstrating their support. Then you can send this list to your local council cycle parking team (or local councillor if you don't have a cycle parking team). The greater demonstrated support you have, the more likely you are to influence your council Bikehangar provision. Direct your neighbours to our Suggest a Location form or give them one of our Bikehangar Canvassing Postcards. They can either return the postcard to you or directly to your local councillor.
3. Write to your local council
Your local council plays a key role in influencing changes to your area. If you have a Bikehangar scheme in your area and want greater provision, write to your cycle parking team. Contact details can be sourced from this page on our Rentals website.
If you don't yet have a scheme in your area, then it is your local councillor that you want to get in touch with. Write to them so that you can make the case for kick-starting the provision of on-street cycle parking. This person can represent you and ensure your voice is heard at a higher level. You can find your local councillor here. Or use this helpful website called Write to Them which makes searching and contacting your councillor even easier.
We hope this post was helpful and good luck!
The Cyclehoop Team