Sheer joy on our MD's face as he led the IBikeLondon Pride Ride in 2016
Cyclehoop – as the name suggests – is generally known for cycle parking and for finding innovative ways to make cycling more accessible to the masses. What is not so well known about us however, is that we have a sister company and passion project for our MD, known as IBikeLondon.
Essentially, it is a network (but we prefer to call it a community) that celebrates and promotes cycling with rides across London. Here are some things you can guarantee with each ride: they run monthly, it's free, there will be some sort of wacky theme, a bespoke route and all abilities, shapes and sizes are welcome and positively encouraged to get involved.
One of the key pieces of the I Bike London jigsaw is our fleet of music bikes. Over the years, our loyal community has ridden to the beat of this fleet to just about every corner of the capital. But, alas, one of our systems eventually lost its voice recently and was forced into retirement after a long and memorable innings. Sad as this was, it meant that we were on the lookout for a young pretender to fill the void.
Enter John Hutchinson, an Electrical Engineer from the North East who had previously designed a system for the raucous Critical Mass rides. We had heard about his impressive system at Critical Mass and didn't hesitate in contacting him about commissioning our own.
Our Marketing Officer Alex picked up the completed system, or 'Beastbox Brother' to give it its official name, from his workshop in North West London in May this year and was taken aback by his meticulous attention to detail and pragmatic approach to the design and build of the thing.
In lieu of any money exchanging hands for the system, John and our MD Anthony Lau, agreed to make a charitable donation to the London Cycling Campaign (LCC). We wholeheartedly support this campaign in their mission to give the cyclists of London a voice.
The Beastbox Brother has been an instant hit and we look forward to rolling it out for multiple rides in the future. Please contact us for more details on hiring one of our fleet for your own ride.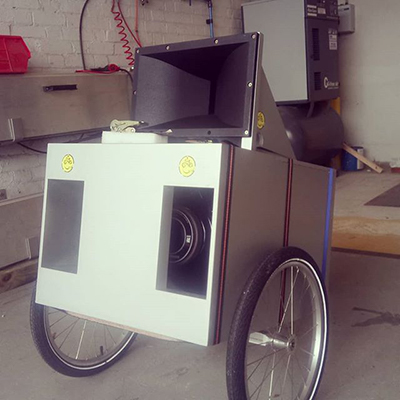 Follow London Cycling Campaign here: @london_cycling