Friday 10th of June saw Bike Week 2016 kick off across the UK, and what better way to spend it than at the fifth Hackney Cycling Conference. The cycling conference, co-hosted by Hackney Council and the London Cycling Campaign was held at the exquisite Hackney Town Hall, and was chaired by Dr Tom Cohen, Deputy Director of UCL Transport Institute. Cycling's potential as an instrument of policy and planning in megacities was the topic on the agenda for the day, and it stimulated a lively debate amongst everyone who attended.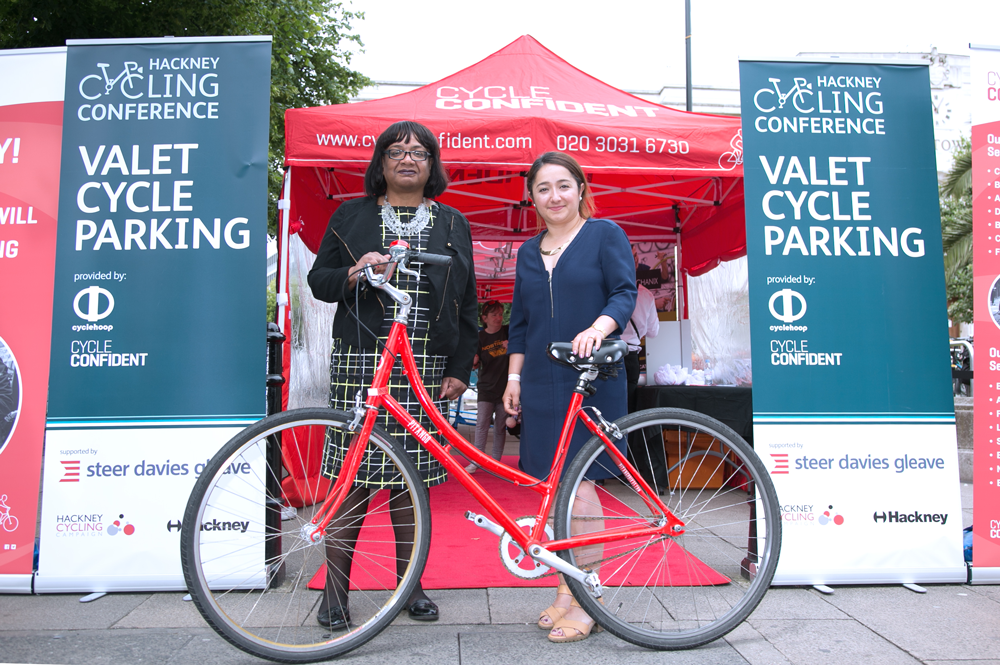 Our MD Anthony Lau had the pleasure of attending alongside 200 other delegates from the cycling world. Cyclehoop supported the event by providing free cycle parking for everyone who attended, and were joined by Cycle Confident who treated the first 60 arrivals to a 5-star valet service. This very unique event marked the launch of our special edition 100th Bikehangar for the borough of Hackney. This 100th Hackney Bikehangar – which provides six bike parking spaces for individuals to securely store their bike on the street – features a customised design conceived by London artist Tony Driver.
After the unveiling of the Bikehangar, Hackney Mayor Jules Pipe dropped by to take a look himself and brought along Diane Abbott (MP for Hackney North and Stoke Newington), Councillor Feryal Demirci (Cabinet Member for Neighbourhoods Sustainability) and Meg Hiller (MP for Hackney South and Shoreditch).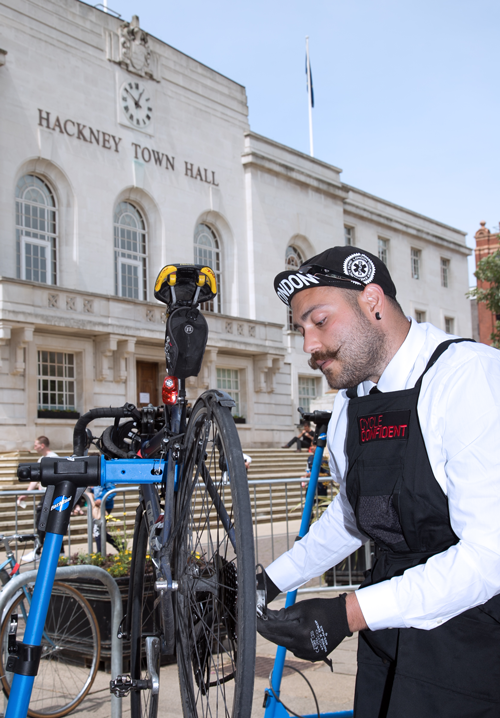 Councillor Demirci told us:
"Today has been a huge success for the cycling community and I love the specially designed 100th Hackney Bikehangar. Over the past few years we have installed parking and storage for hundreds of bikes in the borough, including hangars, lockers, Cyclehoops and a unique Parklet, making a massive difference to the lives of cyclists. We are delighted to be building on our already successful partnership with Cyclehoop and look forward to an exciting year ahead".
The 100th Bikehangar will be moved to its new home on the streets of Hackney for residents to use to securely park their bikes.