On Thursday 3rd December Cyclehoop hosted the UK's first conference for on street Bikehangars and Parklets at the British Library in the heart of London.
With over 500 of our award winning on street Bikehangars now installed in more than half of London's central boroughs, it was the perfect time for local London authorities – who have experience of installing Bikehangars and Parklets on the streets – and the cycling community to come together to discuss how to replicate their success across new areas.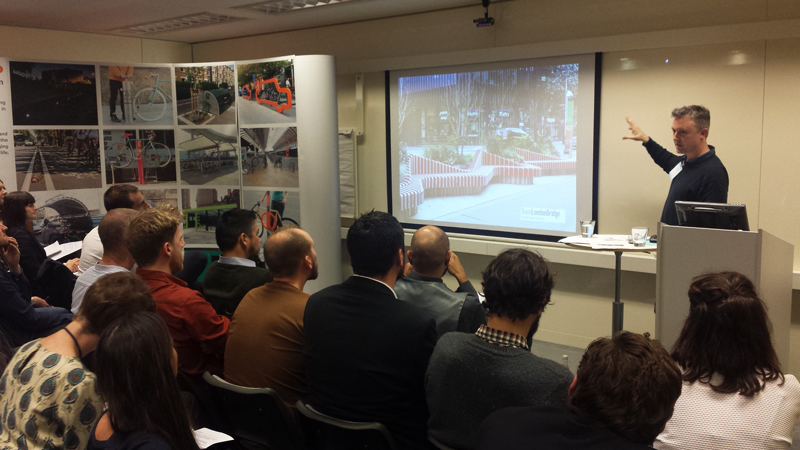 The speakers on the day gave a thought provoking insight in to traffic management orders, planning regulations, resident consultations, issues raised, difficulties and how they overcame them. Our knowledgeable speakers fielded some probing questions from the packed conference room – we were at maximum capacity for the event – and all came away with some troubleshooting pearls of wisdom or new ideas to try.
Cyclehoop also designed, manufactured and installed the UK's first on street Parklets and on the day we heard how businesses which have had Parklets installed outside their property, have felt a positive impact as a result of their installation. There are now plans to roll out a further eight Parklets across London.
Cyclehoop would like to thank all those who attended the event, especially our speakers:
Craig Nicol – Hackney Council
Nick O'Donnell – Ealing Council
Kevin Burke – Hackney Council
Shane Clarke – Team London Bridge
Chris Jub – London Cycling Campaign
Ben Addy – Sustrans
Camilla Ween – Goldstein Ween Architects
If you would like to be sent the presentations from this conference, please send an email requesting them to marketing@cyclehoop.com .